Days later, Steam community is still in an uproar over paid mods debacle
It's been four long, tumultuous days to be a PC gamer. We round up what happened this past weekend, from Gabe Newell's Reddit Q&A to mod theft to in-game pop-ups.
And then the war of the mods began in earnest. On the paid mods side, you had developers literally inserting pop-ups into the free versions of their mods in order to try and force users to pay for the premium version. Scummy.
Then you had the rebels, making a mockery of paid mods. (At least, I hope that was the intent.)
And the protests: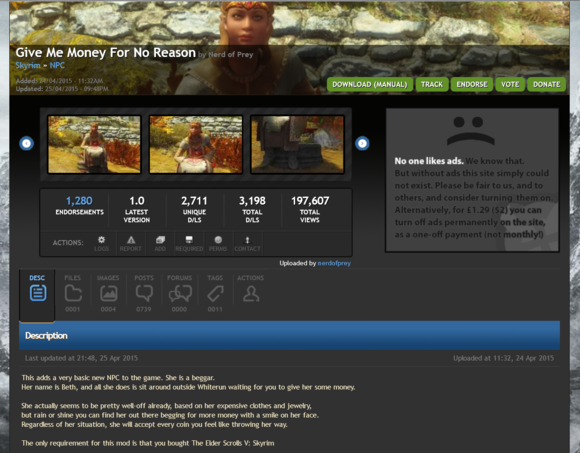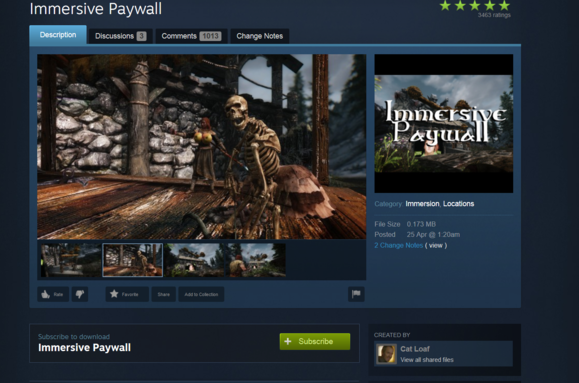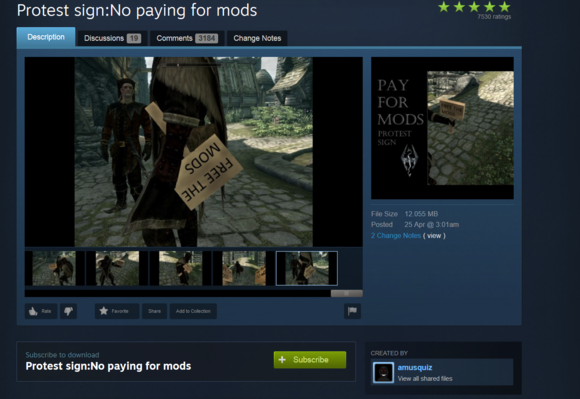 Garry Newman, creator of popular mod-this-platform-to-do-anything game Garry's Mod called the mod community some mean things.
Finally, Gabe Newell himself waded into the fray on Reddit to attempt damage control. Highlights:
"Let's assume for a second that we are stupidly greedy. So far the paid mods have generated $10K total. That's like 1% of the cost of the incremental email the program has generated for Valve employees (yes, I mean pissing off the Internet costs you a million bucks in just a couple of days). That's not stupidly greedy, that's stupidly stupid."
And:
"We are adding a pay what you want button where the mod author can set the starting amount wherever they want."
And:
"Our goal is to make modding better for the authors and gamers. If something doesn't help with that, it will get dumped. Right now I'm more optimistic that this will be a win for authors and gamers, but we are always going to be data driven."
Sunday
But if Gabe Newell's Reddit adventure was supposed to help, it hasn't as of yet. As I write this article late Sunday, Skyrim's Steam review average has plummeted from 98 percent (before this debacle) all the way down to 86 percent. That may seem inconsequential, but on a title this old it's a huge drop and a decent representation of user anger--albeit a wholly pointless form of protest.
There's also this Reddit thread where a user demonstrates the poor quality control of Skyrim's current crop of paid mods--glitched items, glitched doors, clipping, et cetera. These sorts of problems were forgivable when mods were free. In paid items? It's absurd.
Reddit user taro_m also spotted this change in Valve's language: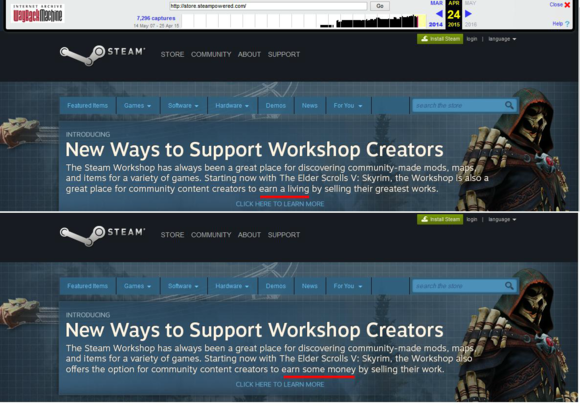 Oh, and the Steam forums look like this: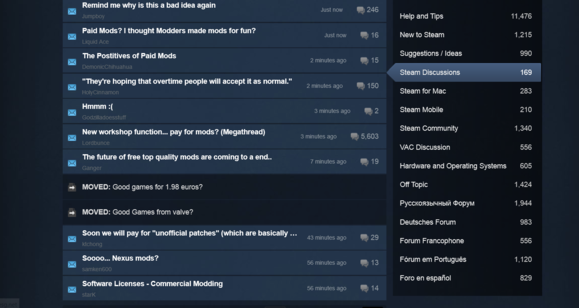 It's a mess, and honestly one that shows no sign of abating yet--surprising, considering most Internet drama seems to come and go in a matter of days. The PCMR subreddit is particularly volatile at the moment though, and some users are even discussing creating their own launcher. That's...fairly serious. Also a ton of work.
Previous Page 1 2 3 4 Next Page