Cuba's pending tech revolution
If the government doesn't impede it, Cuba may see a lot of new technology.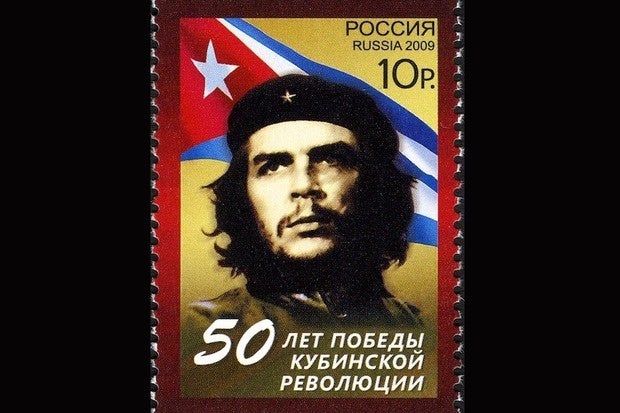 A 2009 postage stamp from Russia marking the 50th anniversary of the Cuban revolution. Credit: Post of Russia
Cuba is on the threshold of getting, potentially, a massive technology upgrade, thanks to a U.S. decision to ease economic sanctions. But this tiny island nation needs a lot of work.
Cuba's entry into the modern high-tech era will require improvements to its electrical grid, a buildout and upgrade of its wireless networks and IT workforce training. This will not be easy, and it may not happen swiftly.
Cubas has an educated population hungry for technology, but it has little income for new tech. The Cuban government wants to trade with the U.S., but is paranoid about the outside world and has limited Internet access to 5% to 10% of the population, at best.
"The government has been very reluctant to have open Internet access," said Harley Shaiken, chairman of the Center for Latin American Studies at the University of California, Berkeley. But "there is real hunger for technology," and with the easing of the embargo, the government "will be facing new pressures," he said.
The White House order on Thursday lifting economic sanctions against Cuba specifically singles out technology, from telecommunication networks to consumer tech.
Cuba has a population of about 11 million, about the same size as the Dominican Republic, which spends about $1 billion annually on technology and related services, said Jay Gumbiner, vice president of research for Latin America at IDC. There is no market data on Cuba's IT spending, but initially, there could be a high rate of growth as people buy their first PCs and mobile devices, he said.
Juan Chavez, director of Latin American Sales for NEC Display, which makes computer monitors, large displays and projectors, is interested in the Cuban market, and expects that business technology demand may come first from Cuba's tourism businesses. But it may take time for the country's technology market to develop because of its infrastructure problems.
"Markets like Cuba, which will require a wholesale construction of new infrastructure, don't come along often, if ever," said Todd Thibodeaux, president and CEO of CompTIA, a tech industry trade group. "The flood of companies lining up to get in should be quite substantial," he said, and he hopes the Cuban government doesn't meddle.
One of the first things Cuba needs is reliable sources of power, Thibodeaux said. Critical, as well, will be to build a 4G/LTE infrastructure to overcome the lack of wired networks. He expects Cisco Systems, Verizon, AT&T, Hewlett-Packard and other large systems vendors to move quickly.