Convenience, apps draw people to the Apple Watch
Crowds swarmed online to order Apple's first smartwatch, creating an order backlog that stretches to June for some models.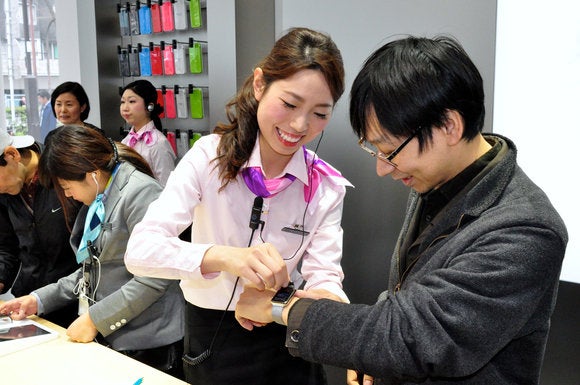 The Apple Watch's public debut failed to draw throngs of people to the company's stores but that didn't mean the public wasn't interested in the smartwatch.
Instead of swarming stores, virtual crowds flocked online Friday to pre-order the device, creating a backlog minutes after Apple began taking orders at 12:01 a.m. U.S. Pacific time. Some people who pre-ordered the watch were told to expect the device in May or June.
Apple's initial plans called for people to receive their pre-ordered watches on April 24, the same day it goes on sale to the public. However, on Thursday, Apple informed customers that demand for the watch would exceed its supply and that it would take online orders for the device only during its initial launch period, a time frame that wasn't defined.
People who did show up at Apple stores in Boston and New York on Friday had mixed feelings about the company's first wearable device. Some said that a smartwatch is a natural evolution of how people use technology to access information. Others questioned the need for the Apple Watch when their smartphones already handle the same functions.
Technology professionals Aaron White, Ariel Diaz, and Matt Hodgson, who all pre-ordered a stainless steel watch at Apple's Boston store, said they would use the device for fitness tracking and communication.
White owns a Pebble smartwatch and likes the convenience of having information delivered to his wrist.
"It's less invasive than pulling out your phone," he said. The watch also provides easier access to Siri, Apple's voice-controlled personal assistant, which makes him more likely to use the function than with his iPhone.
Diaz praised the watch's user interface, saying that rotating through the apps was easy. He's especially interested in using the watch's Uber ride-hailing app.
White and Diaz liked how the watch felt on their wrist, even if it was lighter than what they had expected.
Leaving the Apple store without the watch took away a bit of the excitement for Hodgson.
"This is pretty anticlimactic," he said, adding that he would have stood in line if that meant he could have walked out of the store with the Apple Watch he pre-ordered. The lack of fanfare outside the store felt odd to Hodgson.
In New York City, the long lines that form at Apple's flagship Fifth Avenue store for the iPhone and iPad launches were missing today, a scene repeated in Apple stores in other major cities.
There seemed to be as many journalists as there were customers waiting for the store to open. One person was there to see Apple's new MacBook, which was also available for pre-order today.