Consumer SSDs and hard drive prices are nearing parity
SSDs will be in more than 25% of new laptops this year, more than 40% by 2017
In the retail SSD market, channel distributors were conservative in their restocking efforts in the third quarter because they had expected NAND flash prices to drop further. Therefore, the retail SSD market's total shipments in the last quarter were disappointing by peak quarter standards, rising only slightly, Chen said.
Fourth quarter is the traditional peak sales season in the U.S. and European markets. Chen noted that while MacBook sales continue to grow and non-Apple branded notebooks with Intel's Skylake CPUs have hit the market, quarterly notebook shipment growth will still be constrained by ongoing inventory adjustments.
DRAMeXchange expects the SSD adoption rate in the laptop market to move up a bit to about 28% during the same period.
Since the decline in NAND flash prices and aggressive pricing from SSD suppliers show no signs of stopping, the retail SSD market will deviate from the seasonal pattern in the fourth quarter; global Client-SSD shipments are likely to see a slight quarterly increase of 4% to 6%.
In order to consume more capacity and gain market share, NAND flash suppliers such as Samsung, Toshiba, SK Hynix, Intel and Micron will maintain their aggressive pricing strategy into the first half of 2016, DRAMeXchange said.
In terms of SSD product strategy, Samsung will continue to use the price advantage it has with its 3D triple level cell (TLC) SSD and DRAM-less SSDs to gain more PC-maker market share. However, SanDisk is quickly catching up and has started mass production of its own lines of TLC-SSD and DRAM-less products since the middle of this year.
Other SSD manufacturers are rolling out products using 15 nanometer (nm) and 16nm-based multi-level cell (MLC) flash in response to the aggressive pricing of NAND flash memory.
Chen noted that the price war in the NAND flash market will continue into the first half of 2016 as major NAND flash suppliers work hard to consume capacity and capture market share.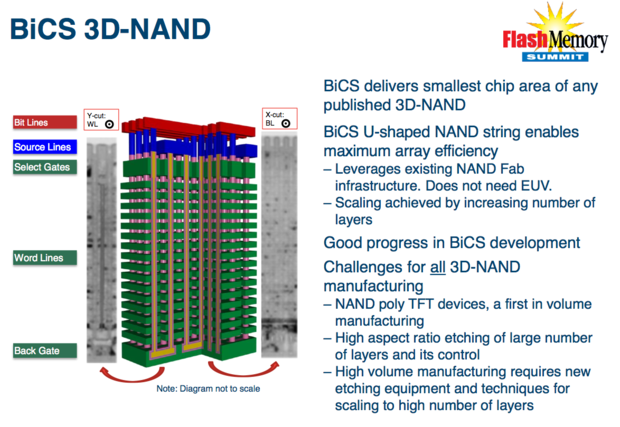 Toshiba and SanDisk's Bit Cost Scaling (BiCS) 3D vertical NAND design. Click on image to enlarge. Credit: Toshiba, SanDisk