Commercial space accidents not expected to slow NASA
Space agency not without backup as SpaceX is ready to fly next month.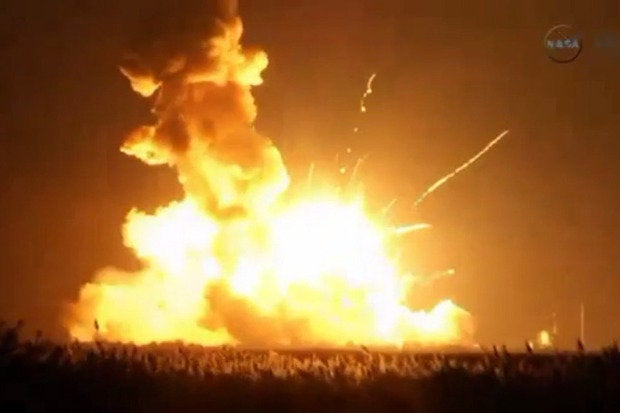 An unmanned Antares rocket exploded seconds after liftoff from a commercial launch pad in this image from NASA video at Wallops Island, Va. The 14-story rocket, built and launched by Orbital Sciences Corp., bolted off its seaside launch pad at the Wallops Flight Facility at 6:22 p.m. and exploded seconds later.
The two recent explosions involving commercial spacecraft are unlikely to deter NASA's used of private companies for future space exploration.
The fiery explosion of an Orbital Sciences rocket and the spacecraft it was carrying was followed days later by the deadly crash of a Virgin Galactic rocket ship late last week. The accidents raised questions about the readiness of the fledgling commercial space industry.
But those following the space industry say the accidents, which were unrelated, shouldn't put an added burden on NASA, which is contracting with commercial space flight companies. However, it may open an opportunity for other commercial players.
"I think this is going to raise fears about commercial space flight, but I think they are unjustified," said Howard McCurdy, a professor at American University who specializes in space policy and history. "There's a reason NASA has more than one commercial partner. I think there's a lot of redundancy or slack in the system. It's set up to handle these kinds of issues. You want everything to be perfect but it never is. Since it never is, the goal is to set up a system that can recover. That's what NASA has done."
On Oct. 29, an Orbital Sciences Cygnus spacecraft, riding aboard an Antares rocket, exploded moments after liftoff. The unmanned spacecraft had earlier been successfully used for two cargo resupply mission launches to the International Space Station.
No one was injured in the accident. The rocket and spacecraft cost more than $200 million. The Cygnus was carrying more than 5,000 pounds of supplies and scientific equipment. NASA had contracted with Orbital Sciences for eight missions.
Then on Oct. 31, the Virgin Galactic rocket ship, designed for space tourism, broke apart miles above the ground. One pilot was killed and a second was seriously injured.
The space agency is not without a means of ferrying supplies to the orbiting station, since it also has contracted with SpaceX to fly 12 resupply missions. The company has flown four successful missions and its next one is scheduled for December.
The two high-profile accidents raised speculation that commercial space flight was moving too fast and possibly too recklessly.
Scott Hubbard, an aeronautics and astronautics professor at Stanford University and former director of NASA's Ames Research Center, said the two accidents need to be looked at separately and can't be held against NASA.