Combatant Gentlemen's new app will find you the perfect outfit
The new app from the menswear startup uses tailored algorithms to tell you which clothes will look good on you.
Menswear startup Combatant Gentlemen has a brand-new iOS app that will help you find the perfect outfit for a wedding, a job interview, or a date.
The Combat Gent app (free) makes it easy to swipe through all of the brand's suits, blazers, and dress shirts, or what the company calls "men's corporate essentials," along with some casual wear. The key feature, however, is that the app has built-in algorithms that can recommend outfits based on the weather in your location, your skin color, and your previous shopping habits. For example, the app will not suggest a sweater if you're going on a date in sunny Miami, and it will also know that you've already recently purchased a navy blazer and stop suggesting them. Combatant Gentlemen's COO Imran Rahman describes the app's algorithm as a combination of Amazon's recommendations engine and Netflix's predictive model.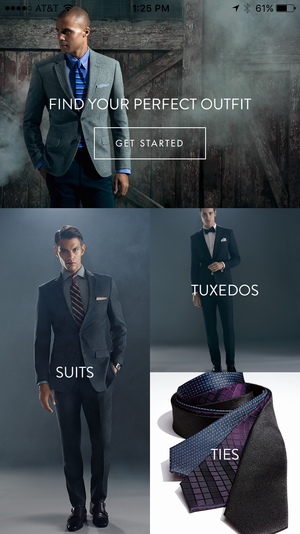 "Whatever we recommend is going to look good," Rahman said, "based on pure science–color theory–and based on other people in this matrix that have looked at similar products."
You get started by selecting what type of outfit you're looking to buy, say, Interview, Date Night, or Black Tie. Then you input your zip code and day of the event so the app can figure out what the weather is going to be like. Lastly, you select your skin tone, and the app will use color theory to suggest products with a complementary RGB based on the monochrome color theory. The Combat Gent app also takes into account your personal shopping behavior, as well as the shopping habits of about a million Combatant Gentlemen shoppers on mobile and on the web.
"Guys ask us all the time, 'What do I wear with a black suit? What do I wear with this?' It's the number one question, so we just put it in the app for you, so you don't have to think about it," Rahman said.
Launched in 2012, the Combatant Gentlemen brand bills itself as a millennial man's alternative to Men's Wearhouse – more affordable, tech-savvy, and consumer-friendly. Cofounded by Vishaal Melwani, a third-generation tailor, the startup says it can produce quality wool suits at the fraction of the cost because it owns all the raw materials and retains full control of the manufacturing process.
"We have sheep in Italy that we own," Rahman said, "so we get to cut out the middleman."
Combatant Gentlemen's sheep are on the same farm as Tom Ford's sheep, but CG suits don't come with the luxury markup. They range from $140 for a chino suit to $320 for a chalk-stripe suit. Most are about $200 and are made with 100 percent Italian wool. Rahman says that the quality of CG's $160 suit is equivalent to that of a $800 Hugo Boss suit.