Chromecast (2015) review: A superfluous upgrade to a high-caliber product
One of Google's best devices gets modest improvements, and that's okay.
Later, Google will extend Fast Play by letting apps predict the next video you might watch. Videos can then buffer in the background, so they're ready to stream when you select them. This feature sounds similar to the "predictive streaming" on Amazon's Fire TV devices, but we won't be able to check it out until it launches early next year.
Of course, any streaming device lives and dies by its app support, and over the past two years Google has done an admirable job of getting major streaming video and music services on board. The most recent arrivals include HBO Now, Showtime, and NFL Sunday Ticket. The cable alternative Sling TV is on its way. Apple services such as iTunes and Apple Music are absent, but you can buy movies and TV shows from Google Play or Vudu, and listen to other subscription music services such as Spotify and Rdio. The biggest hole in the catalog is Amazon Video, and unfortunately that's unlikely to change anytime soon.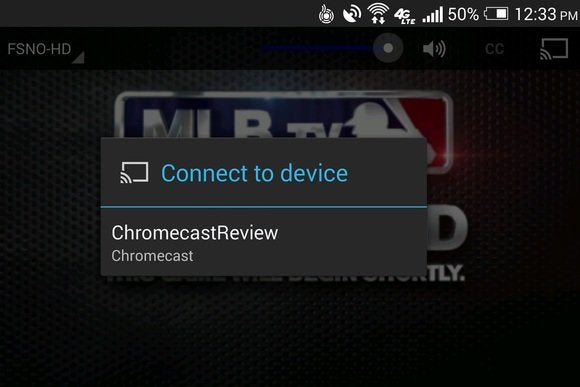 Tapping the Cast button in a supported app, such as MLB At Bat, starts playing video on the TV.
It's certainly possible to gripe about what Google didn't include in the new Chromecast. There's no 4K video support, for instance, and no 60 frames-per-second playback in YouTube. And while other streaming platforms support private listening (either through Bluetooth headphones on Amazon Fire TV and Android TV, or a headphone jack on the Roku 3 and Roku 4 remotes), Chromecast does not headphones.
At the same time, the lack of new features is a testament to how well Chromecast worked in the first place. It's still a love-it-or-hate-it concept, as some people just won't like the lack of a physical remote control; but for everything Chromecast set out to do, it performs well. Buy the new model if you don't have the old one, but otherwise be happy that your $35 investment is aging more gracefully than any of its rivals.
Previous Page 1 2 3