Chromecast (2015) review: A superfluous upgrade to a high-caliber product
One of Google's best devices gets modest improvements, and that's okay.
The new Chromecast's circular design also allows for a new antenna structure, which supports the latest 802.11ac Wi-Fi standard. If you have a router that supports both the 2.4- and 5GHz frequency bands, the new Chromecast can connect to either one (the latter is less crowded in most homes, but you might get better range with the former).
Those antenna improvements, along with an upgraded (but still low-power) processor, allow the new Chromecast to load videos faster than its predecessor. I tested this by launching videos in a few different apps—HBO Go, Netflix, and YouTube—and timing the delay before video began. In all cases, the new Chromecast was at least a couple of seconds faster. (Nvidia's Shield Android TV, which has the same Cast capabilities, was faster than both Chromecasts in my experience.)

Beyond just Casting from apps, you can also mirror the display of many Android phones, or any tab in Google's Chrome browser. Doing so will drain your device's battery life quickly, and doesn't always provide smooth playback, but it's a fine fallback measure for music and video services that don't support Chromecast natively. In any case, I didn't notice any performance differences between the new and old Chromecasts when mirroring.
Software in the spotlight
In lieu of major hardware changes, the big improvements come on the software side, benefiting both the new Chromecast and the existing version.
The best new software feature is Google's revamped Chromecast app for iOS and Android. It's no longer just a way to set up new Chromecast devices and find compatible apps, but a full-blown content search and recommendation engine. The "What's On" section suggests videos to watch from any Cast-enabled apps you already have, while the search bar lets you look up movies, TV shows, actors, directors, and genres from across all apps, either by voice or text. You can't Cast videos directly from this app, and search sometimes fails to list every available video search, but overall the Chromecast app provides a useful starting point when you don't know exactly what to watch.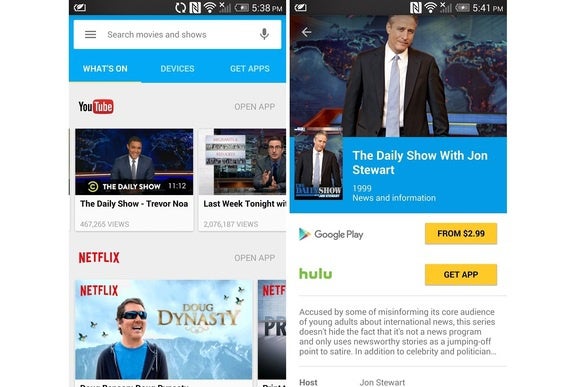 The new Chromecast app helps you figure out what to watch and where to watch it.
Google's also introducing a feature called "Fast Play" that's supposed to make apps and content load faster. This works in two ways: When you first launch an app on your phone or tablet, Chromecast will start pre-loading it, so it appears almost instantly when you hit the Cast button. This already works with certain apps, such as Netflix, on both the new and old Chromecast.