China poised to play pivotal role in NAND flash industry
Chinese firms are investing heavily in U.S. flash manufacturers
Intel will also begin producing 3D-NAND flash chips in the second half of next year at its Dalian, China fab, which is being converted from a processor fab to a memory fab.
There is also increasing domestic support for NAND flash technologies, including by major Chinese foundries such as Semiconductor Manufacturing International Corp. and XMC, which are currently the most proactive among their domestic peers. Their respective technologies, products and strategies are steadily maturing.
"XMC in particular is poised to create an impact in the NAND flash industry in the next two to three years as it is working on the advanced 3D-NAND flash," TrendForce's report stated.
3D NAND flash is a method of stacking memory cells one atop another like a microscopic skyscraper to create denser memory that not only has greater capacity but is cheaper to produce. All major NAND flash suppliers today have their own versions of 3D NAND flash.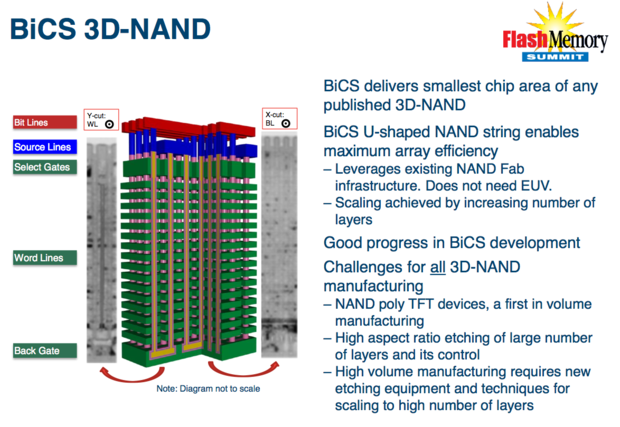 Toshiba and SanDisk's Bit Cost Scaling (BiCS) 3D vertical NAND design stacks 48 NAND cells one atop another like a tiny skyscraper. Click on image to enlarge. Credit: Toshiba
Development of NAND flash controller chips and firmware will be key for the Chinese storage industry moving forward as the components have to meet the national standard on information security that was established for the industry.
The technical capabilities of Chinese controller chip manufacturers have advanced to a certain level with the takeoff of the domestic market and are rapidly gaining international visibility, TrendForce said. For example, Sage Microelectronics (SageMicro), a four-year-old company based in Hangzhou, China, plans has released a 10TB SSD in an attempt to break into the U.S. market.

An internal look at the front and back of state-backed Chinese solid-state drive maker SageMicro's 10TB SSD. Credit: SageMicro
The company, which emerged from quiet mode last year, already sells a 5TB SSD in a 2.5-in. form factor, along with SD cards and NAND flash memory controllers. The 8TB SSD simply adds another stack of eMMC flash memory crammed into a 9.5mm-high SSD.
China has also increased its vertical integration within the NAND flash industry. For example, Chinese memory module maker Netcom and U.S.-based Marvell, a major supplier of controller chips, have penned a strategic development partnership.
"As a fabless [integrated chip] design house seeking to develop the Chinese SSD market, Marvell will take advantage of Netcom's complete production chain in Suzhou," TrendForce stated. "Such cross-industry alliances will strengthen the links among suppliers at different levels, allowing them to specialize and maximize their profits."