CCP's VR Labs has mashed Oculus Rift and Kinect into a multiplayer VR Frankenstein
I used it to play Tron. And also to flip myself off. More hands-on information inside.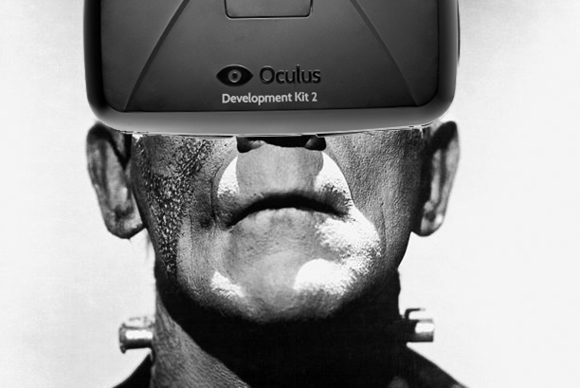 CCP Atlanta has created a beautiful virtual reality monster--a Frankenstein creation hacked together from two separate technologies, tethered by a 24-foot cable, meticulously assembled, and all so that I can play...Discs of Tron.
It's ridiculous. You've got an Oculus Rift DK2 headset, the accompanying position-tracking camera, and then a Kinect V2 for Windows all tethered up and across the ceiling into a computer (running Nvidia's new Titan X graphics card, I might add). It's the most homebrew of homebrew VR solutions.
CCP's Morgan Godat tells me it used to be even crazier. "Man, you think this thing is a mish-mash Frankenstein--we had an HD [Oculus Rift] kit before DK2s were out, with a PlayStation Move taped to the forehead like a unicorn for doing head-tracking, because head-tracking was critical."
The whole contraption is the core of what CCP is terming "VR Labs," a new experimental virtual reality initiative unveiled at EVE Fanfest 2015.
Off the deep end
VR Labs isn't necessarily for product development. Some of the things at Fanfest aren't even games. Instead, VR Labs is a series of prototypes CCP is showing off at Fanfest this week--similar to the way it demoed EVE-VR two years ago, except these prototypes are arguably even rougher than that early version of what eventually became EVE: Valkyrie.
"We started the team off with the mantra of 'If you had to make EVE in VR, all the same rules--targeting a ship, getting a lock on a ship--how would you be able to do that?' And we just immediately ran into 53 different challenges," said Godat. "So we just sort of evolved from there."
So why does it look so crazy? Why the DK2/Kinect V2 hybrid?
Well, CCP's hacked-together VR solution does something I've never seen in any VR demo: It renders my entire body into the game, thanks to the Kinect's depth camera.
I've seen rudimentary hands in VR before, thanks to controllers like the Razer Hydra or the HTC Vive's two wands, or with the Leap Motion. But the Kinect gets your entire body in place, as well as any objects or people around you. "The concept of looking even at this rudimentary, nasty vision of your own body--two pixels for your pinky finger, the fact those two pixels move when your pinky finger moves, the way your pinky finger moves? You're like, 'Yup, I got it. I'm good,'" said Godat.
This DK2/Kinect hybrid might look ridiculous, and it might be nigh-impossible to set up in your own house, but it enables a couple of things:
1. Motion controls: Every prototype from CCP Atlanta is completely controller-free. Each demo starts by instructing you to look ahead at a white dot, point at it, and flick your hand upward to begin. It's smart: It starts the demo, and it gets you used to the idea of controlling things in VR with your hands.