Brix Gaming UHD (GB-BNi7HG4-950) review: A lot of performance in a little PC
This Brix trounces today's gaming consoles and leaves other mini-PCs in the dust.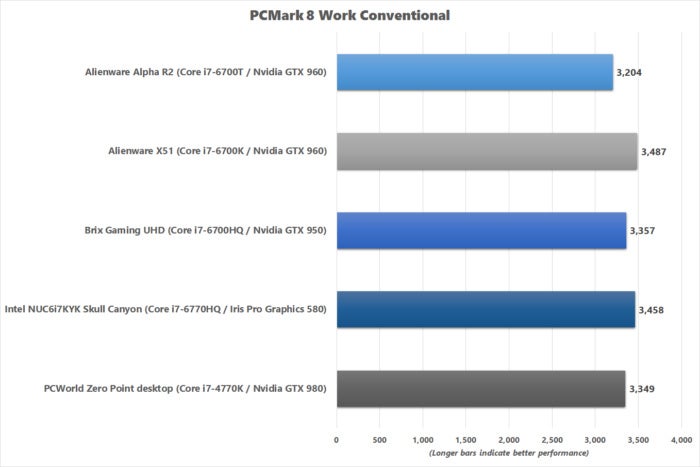 The gulf widens predictably when you lean more on the CPU. In Cinebench R15's 3D rendering test, which takes just a few minutes, the 91-watt Core i7-6700K in the X51 takes a clear, dominating lead over the lower-watt parts. Here, the Brix slips slightly behind the Alpha R2, which is likely due to its lower clock speeds. The 6700T has a base speed of 2.8GHz and a Turbo speed of 3.6GHz, while the 6700HQ has a base speed of 2.6GHz and a Turbo speed of 3.5GHz.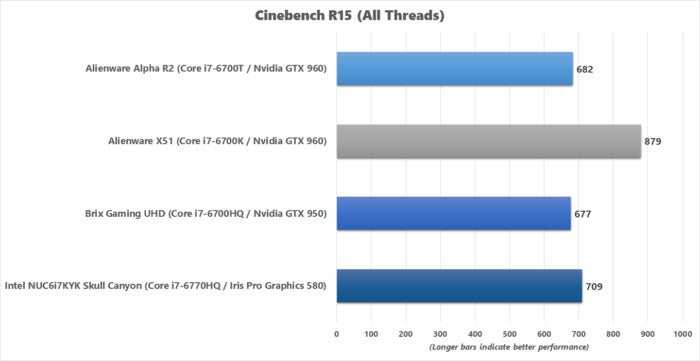 Under longer CPU loads, though, things flip. In our Handbrake benchmark, which involves converting a 30GB MKV file into a smaller MP4 using the Android Tablet preset, the Brix repeatedly edged out the Alpha R2. It's a small margin—barely a minute—so it implies that the 6700T's higher clock speeds count more only during short bursts of intense activity. Unfortunately, I sent the Brix back to Gigabyte before I had a chance to look at the clock speeds under load and how long they held. I'll hazard a guess that the 6700T might not hold that peak of 3.6GHz for long before dropping down to just a hair below the Brix's 6700HQ.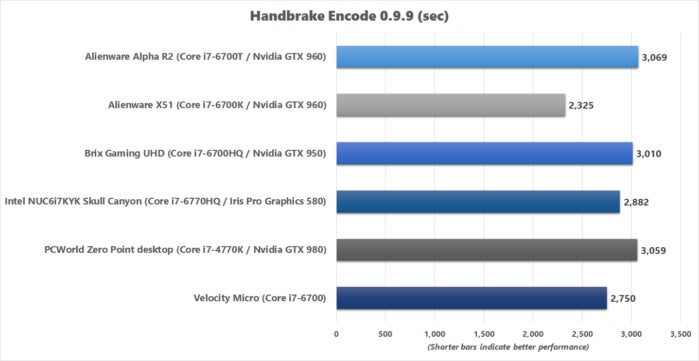 Finally, to round out our benchmarks, I looked at the maximum power draw. One of the appeals of having a mini-PC instead of a larger system is the lower power consumption. That may be of no concern to someone whose rig could function as a boat in the event of a cataclysmic flood, but it does matter to those of us who like to plug everything in the house into a Watts Up meter and make a spreadsheet of the resulting data. (Ahem.)
Measuring max power draw is an inexact science. To get these results, I ran two different torture tests: Furmark, which pounds on the GPU, and Prime95, which hammers on the CPU. For the systems with discrete GPUs, running Furmark drew the most power, but the Skull Canyon NUC was the opposite. Its result in the chart is from running Prime95.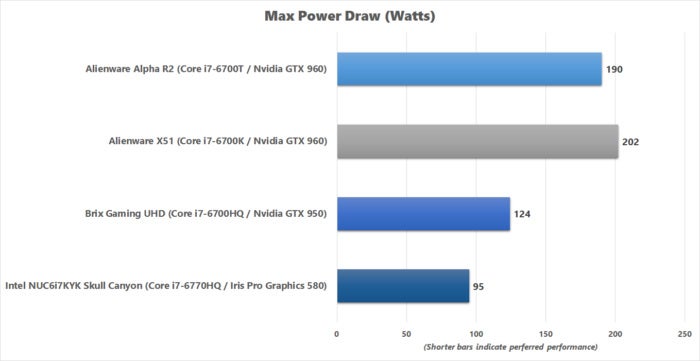 It's impressive that the Brix Gaming UHD consumes just 30 watts more than the Skull Canyon NUC but can push out so many more frames while gaming. Thing is, newer parts could probably do better. The GTX 1050 desktop part is rated at 75W, which is already lower than the 950, which was rated at 90W. A custom 1050 likely would have a lower TDP than the GTX 950 as well.
Previous Page 1 2 3 4 5 6 Next Page