Brix Gaming UHD (GB-BNi7HG4-950) review: A lot of performance in a little PC
This Brix trounces today's gaming consoles and leaves other mini-PCs in the dust.
For its part, the Skull Canyon NUC gives an old college try with 16.4 fps. We still have to wait before integrated graphics can manage even 30 fps in three-year-old games with everything cranked up. It'll be interesting to see how AMD's Zen APUs manage.
Middle-earth: Shadow of Mordor
Here we begin to see the limits of the GTX 950 and GTX 960. With the 4K texture pack installed, this newer title can ask a fair amount of a GPU.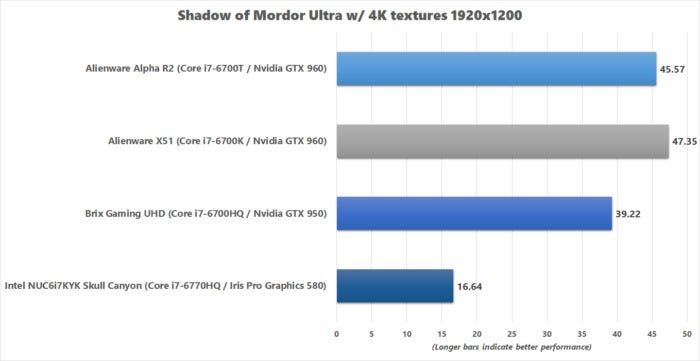 What's most surprising is that the Skull Canyon NUC's Iris Pro manages about the same level of performance here as in BioShock Infinite and Tomb Raider. The step down for the Alpha R2 to the mid-40-fps range, and the Brix Gaming UHD to just under 40 fps, is less startling, but it does begin to show the trade-off of performance for size. The newer the game, the more you'll have to dial down graphics settings to get smooth gameplay at tolerable framerates.
Grand Theft Auto V
That trend is clearest in GTA 5. For this benchmark, I cranked down all the settings, then used FRAPS to capture the framerate as I played the first mission. It's not the prettiest, but it's playable. The Skull Canyon NUC manages 50 fps, while the Brix Gaming UHD steams along at over 100 fps.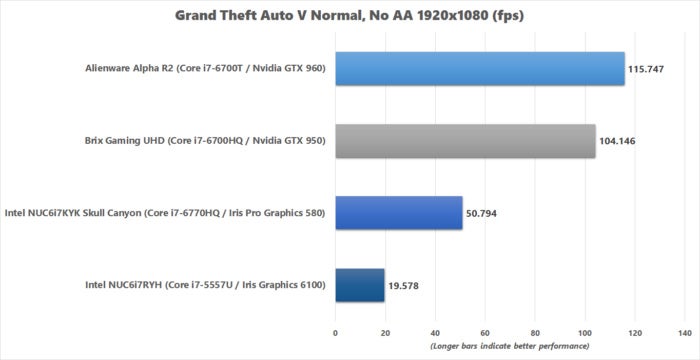 However, if you step up the graphics one notch on all settings and turn on MSAA to a factor of x2, the Brix Gaming UHD's framerate drops in half to an average of about 52 fps. That's not bad at all, but I'd be a lot more enthusiastic if I weren't spending so much time with the new mobile versions of Nvidia's 10-series parts. This system could pack a much stronger punch with a GTX 1050 or even 1050 Ti—if Nvidia ever makes mobile equivalents of those parts.
General Performance
You won't find any surprises on the CPU side of performance. The Brix Gaming UHD's Core i7-6700HQ spars comfortably with the socketed 35W Core i7-6700T in the Alpha R2 as well with the Core i7-6770HQ in the Skull Canyon, which is almost the same chip but with better integrated graphics along with a large embedded DRAM cache.
In PCMark 8's Work Conventional benchmark, which simulates everyday tasks like web browsing, video chat, word processing, and light spreadsheet use, the Brix Gaming UHD fell slightly below the Skull Canyon NUC and the X51 (the latter of which uses a socketed Core i7-6700K processor), and slightly edged out the Alpha R2's 6700T. With about 100 points between the UHD and its competitors, it's too small of a difference to matter much. All of these systems will feel snappy during basic work.
Previous Page 1 2 3 4 5 6 Next Page