Brix Gaming UHD (GB-BNi7HG4-950) review: A lot of performance in a little PC
This Brix trounces today's gaming consoles and leaves other mini-PCs in the dust.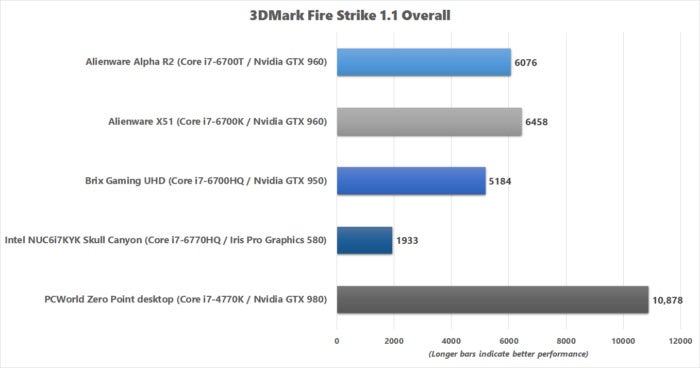 The X51 does only a bit better than the R2 here, which you'll see repeated again to varying degrees in the next set of benchmarks. The real comparison here, however, is between the R2 and the Gaming UHD, because the X51 is not a mini-PC. (Plus, it's discontinued.) Opting for the Brix Gaming UHD instead of the Alpha R2 means a drop of about 14.6 percent in performance. As you'll see below, that usually works out to about 10 frames per second or so in actual games.
If you're curious about how the Brix Gaming UHD's GTX 950 would do against the desktop counterpart, I unfortunately didn't have one on hand during testing. All I can share is that Gigabyte has said this GTX 950 is a custom part, and its specs look very similar to that of the GTX 965M.
(For reference, the desktop GTX 950 has 768 CUDA cores with a base clock of 1,024MHz and a boost clock of 1,188MHz, while the Gaming UHD's 950 has 1,024 CUDA cores with a slower base clock of 935MHz and a boost clock of 1,150MHz.)
It's pretty much a given, though, that the desktop GTX 950 will outperform the Brix. Larger parts in bigger chassis can run hotter, so thermal constraints on performance won't be as severe. You can look at the difference between the X51 and the Alpha R2 for a very rough idea of what that delta would be.
Tomb Raider
At this point, Tomb Raider is an aging game, but all the better to see how the Brix Gaming UHD will handle a backlog of older titles purchased during Steam sales. This particular game leans a bit more on the CPU, so if you somehow get your hands on the Core i5 version of the Brix UHD, performance won't be exactly same as with this model.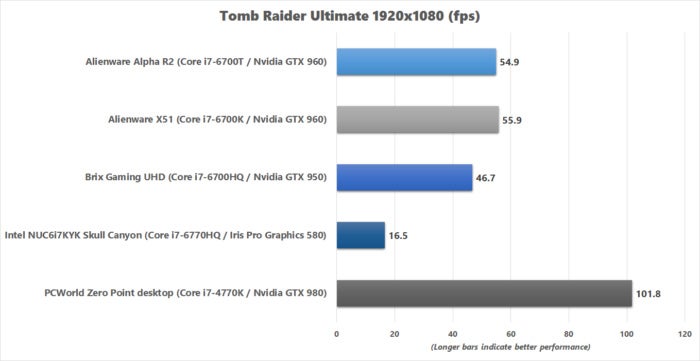 With the settings cranked to Ultimate, the Brix Gaming UHD falls under the golden minimum of 60 fps, though 46.7 fps is still fairly playable. If you don't mind dropping down to Ultra, the framerate jumps up to about 68 fps. The Alpha R2 also can't quite make it to 60 fps on Ultimate, but it's much closer at 54.9 fps.
BioShock Infinite
This three-year-old game can still give the GTX 950 and GTX 960 a run for their money on Ultra settings with DDoF turned on.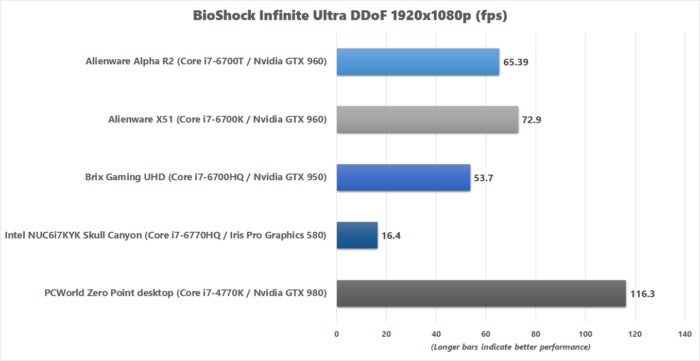 The Alpha R2 just manages to hit over 60 fps, while the Brix Gaming UHD manages a little over 50 fps. While that extra 10 frames per second might sound like the better deal, don't forget about the piercing sound of the Alpha R2's fans under load.
Previous Page 1 2 3 4 5 6 Next Page