Brix Gaming UHD (GB-BNi7HG4-950) review: A lot of performance in a little PC
This Brix trounces today's gaming consoles and leaves other mini-PCs in the dust.
So, for example, if you wanted to put in a 512GB PCIe-NVMe SSD and 16GB of DDR4/2133 RAM to match the same configuration as the Intel Skull Canyon NUC we reviewed earlier this year, the Brix Gaming UHD would be about $1,400. Max out the RAM at 32GB and toss in two 1TB 2.5-inch hard drives (because why let that space go to waste?), and you're looking at $1,615.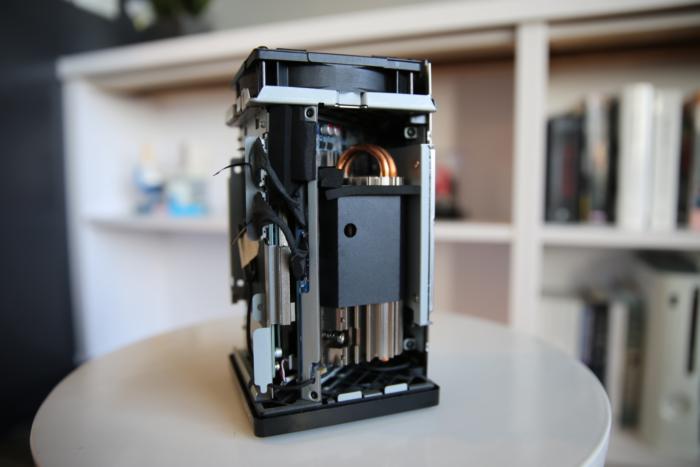 Performance
Price isn't the whole story, of course. Sure, that Skull Canyon NUC starts at $650 for the bare-bones system and is a lot more portable, but it also lacks discrete graphics. You can (in theory) add an external video card to the system using a Thunderbolt 3 cabinet like the Razer Core, but that'll start running you as much as a Brix with a lot of storage. Plus, you know, you'll actually have to get your hands on such a dock.
Then there's the $950 Core i7 version of the Alienware Alpha R2, which offers better gaming performance for about $200 less than this Brix. However, it gets pretty loud. As in, "put on some headphones to drown out those shrill fans" loud. That alone can be a deal-breaker for some people. Also, with its wider footprint, the R2 is also more of an ultra small-form-factor PC than a mini-PC.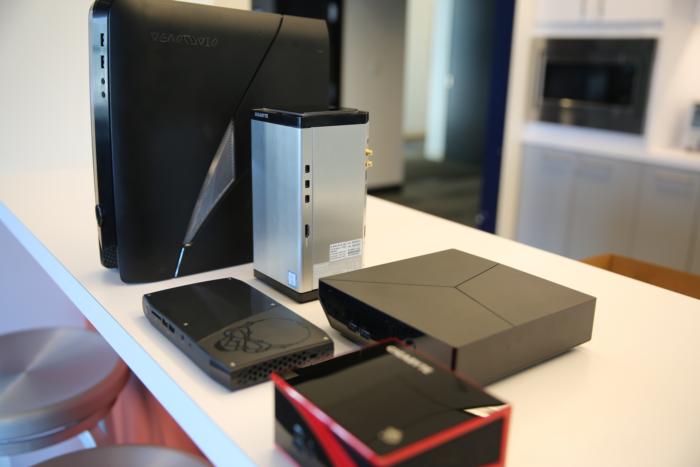 From top to bottom (zig-zag): The Alienware X51, Gigabyte Brix Gaming UHD, Intel Skull Canyon NUC, Alienware Alpha R2, and Gigabyte Brix BXA8-5557.
The Brix Gaming UHD experience falls between those two, but not exactly in the middle. On the one hand, its discrete GTX 950 creamed the Skull Canyon's integrated Iris Pro 580 by as much as 227 percent in our gaming benchmarks. On the other, that same GPU has a 10- to 18-percent drop in gaming performance relative to the Alpha R2's GTX 960. The Brix UHD's fan noise is softer and lower-pitched than the R2's, though.
Let's dig into the numbers:
3DMark Fire Strike
3DMark's Fire Strike benchmark simulates DirectX 11 gaming on ultra-high settings at 1080p. These numbers primarily reflect GPU performance, so the CPU in each system doesn't have as much effect as it might in real-world games.
I've included results from our PCWorld Zero Point desktop (which runs a GTX 980) to show a fuller range, but the key data points are those of the Alienware X51, Alienware Alpha R2, and the Brix Gaming UHD. The X51 runs a full desktop version of the GTX 960, while the Alpha R2 sports a custom GTX 960—both belong to the grade above the Brix Gaming UHD's GTX 950 in the Nvidia GTX 9-series lineup.
Previous Page 1 2 3 4 5 6 Next Page