Brix Gaming UHD (GB-BNi7HG4-950) review: A lot of performance in a little PC
This Brix trounces today's gaming consoles and leaves other mini-PCs in the dust.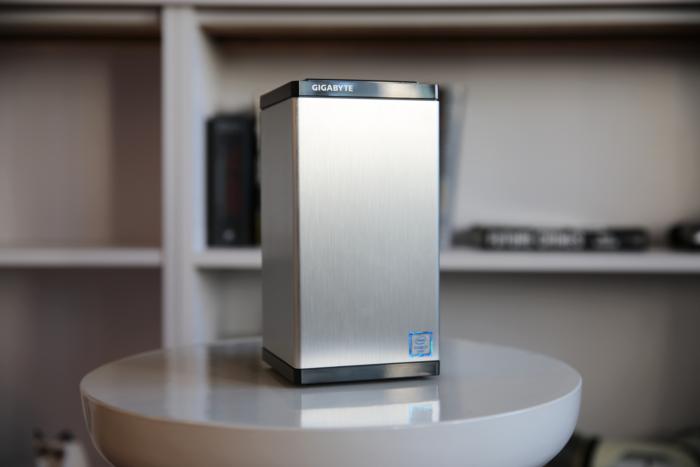 Believe it or not, the gamer who buys Gigabyte's latest Brix Gaming mini-PC has a lot in common with the gamer who rolls a full-sized tower stuffed with overclocked parts. Both have the same hunger for power.
It's a quest to maximize what you can get out of the space available, and given just how small this ultra-compact tower is, the Brix Gaming UHD does a pretty bang-up job. It looks good on a shelf or a desk, it isn't too loud, and it offers better performance than a traditional gaming console (while having a much smaller footprint).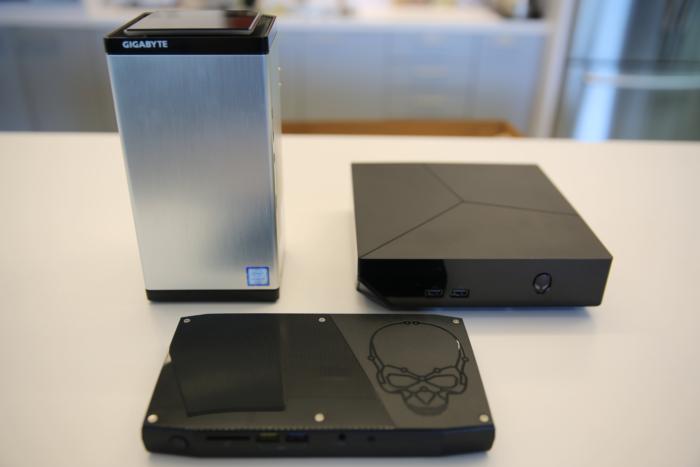 The Brix Gaming UHD (top left) with the Alienware Alpha R2 (top right) and the Intel Skull Canyon NUC (bottom).
That said, the Gaming UHD adds to the solid options for tiny gaming PCs rather than overthrowing the existing top dogs. Other systems might have slightly better graphics or be more compact, but this one's a well-balanced experience across the board.
Specs and Cost
A $1,000 ante gets you the bare-bones system, which sports a quad-core Skylake Core i7-6700HQ processor and a Nvidia GTX 950 desktop part with 4GB of RAM. A Core i5 version of the Brix UHD exists, but Gigabyte says it has no current plans to sell it in North America.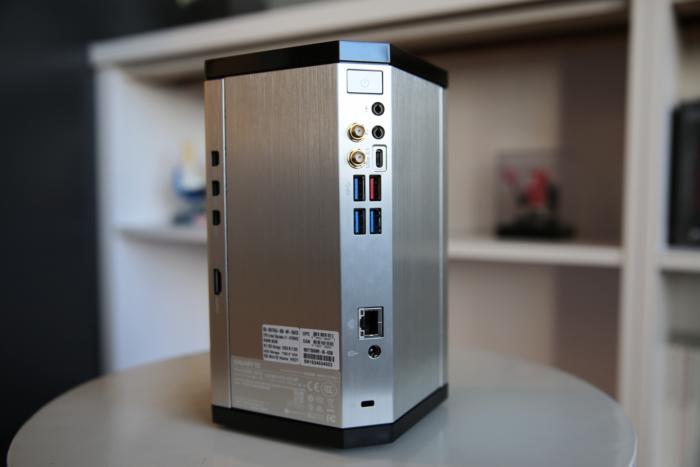 That initial outlay also nets you an Intel Wireless-AC 8260 card featuring 802.11ac 2x2 Wi-Fi and Bluetooth 4.2, and a set of ports that include three mini DisplayPort, gigabit ethernet, full-sized HDMI, two USB 3.0 Type A, two USB 3.1 10Gbps ports (one Type A, the other Type C), separate headphone and microphone jacks, and a Kensington lock slot. Both the HDMI port and all three of the mini DisplayPorts support up to 4K resolution (hence the "UHD" reference in this Brix's name) at 60Hz.
Of course, you'll spend more than that, since you still have to add your own storage and memory. Our review unit, which arrived equipped with a Transcend 128GB SATA III M.2 SSD, Western Digital Blue 1TB 2.5-inch HDD, and 8GB of DDR4/2133MHz RAM, runs about $1,165 at current street prices. Expect to shell out about $1,285 if you plan to run a retail copy of Windows.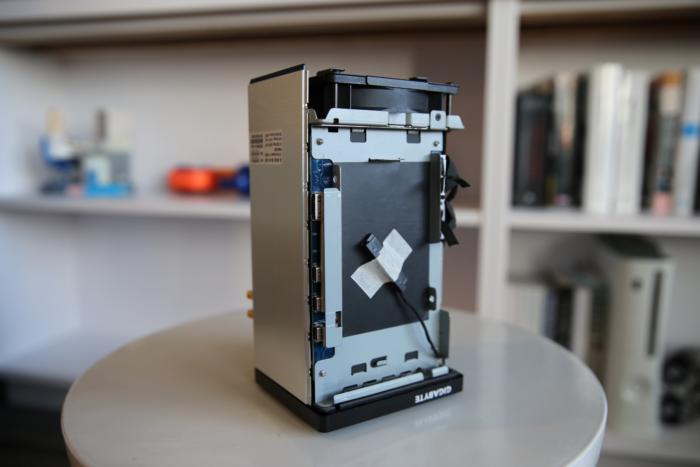 You can pony up even more cash, though, if you really want to go all out. The Brix Gaming UHD has four slots for storage: two PCIe-NVMe M.2 (one also supports SATA 6Gbps), and two 2.5-inch SATA 6Gbps. There are also two SO-DIMM slots that can take up to 32GB of DDR4/2133 RAM.