Best home weather station: Which one should be your personal weatherman?
Home weather stations are getting more accurate and sophisticated all the time. Follow our buyer's guide to ensure you're not left in the cold or soaking wet.
Internet Connectivity: If your weather station can connect to the Internet, you'll not only be able access it while you're away, typically through an app or a special website, but you'll also be able to share your data with the world via services such as Weather Underground. Meteorologists might need your data, especially if you're in a place where their weather stations aren't!
Smart-home support: Personal weather stations can make your smart home even smarter. If you already own a connected-home system, look for a weather station that's compatible with your setup. Some stations now support automation services like IFTTT, so you can turn on your heater when the temperature gets too cold, or your A/C if it gets too hot.
Expandability: Your weather station might suit you fine now, but your needs could change later. Instead of going for all the bells and whistles up front, save some cash and buy mid-range product that can be expanded with new and different sensors down the road. That way, you'll never outgrow it.
Durability: The elements can be harsh, and your sensors will be in it 24/7. Inexpensive stations are constructed from low-grade plastic that will quickly deteriorate. Look for a well-built station, and stay from "all-in-one" units where all the sensors are in a single housing. The sensors represent the bulk of the cost, and if one fails, you'll need to replace all of them—even if the others are working just fine.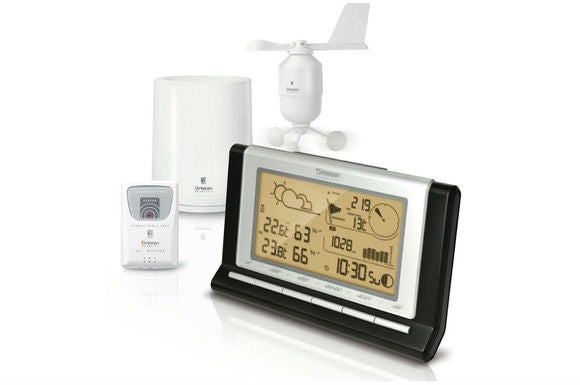 The WMR89A comes with all the sensors you need right out of the box, with no need to buy anything additional for basic weather condition reports. Credit: Oregon Scientific
A word about sensor placement
Now here's where my meteorologist side comes out. Please, please, please choose carefully where you place your instruments. The temperature and humidity gauge should be placed in an shaded and grassy area about eye-level height off the ground (National Weather Service specifications say five feet), and out of direct rain or snowfall. Do not place it near or above concrete, macadam, or other potential heat radiators. This means your bedroom window, too: warm air escaping from your house will throw off its readings.
For the rain gauge, the level you place it at isn't as important. What is important is that it's not placed too low, so that splash-back from the ground causes abnormally high readings, or near tall obstructions that might block rainfall in windy conditions. The NWS generally recommends you place the rain gauge as far from obstructions as they are high. That's tough to do, so just put it in as clear of a spot as possible.
Previous Page 1 2 3 4 Next Page