Best home weather station: Which one should be your personal weatherman?
Home weather stations are getting more accurate and sophisticated all the time. Follow our buyer's guide to ensure you're not left in the cold or soaking wet.
How we tested
We test weather stations over a period of at least one month to ensure we get the widest possible array of weather conditions to see how the station performs. We paid special attention to ease of use and installation, and also used nearby National Weather Service stations to judge accuracy.
Weather conditions can vary dramatically in just a few miles, so with temperature we judged readings of within plus-or-minus two degrees, and all other measurements within a five percent tolerance of the NWS station as accurate.
Finally, we examined durability. With instruments being out in the elements 24/7, this is a very important factor to consider.
What to look for when shopping
At a minimum, a basic weather station should report temperature and humidity, inside and outside your home, and barometric pressure outside your home. A mid-priced station will measure wind speed and direction, as well as rainfall. A high-end model should deliver all of the above, plus other specialized measurements such as UV index, soil moisture, and water temperature (think your pool or a koi pond, for example).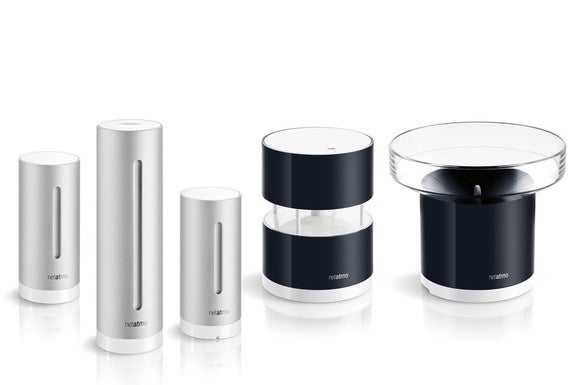 Netatmo Weather Station comes with the base station and one indoor/outdoor temperature/humidity sensor, but you really need the rain and wind gauges to really enjoy this station's capabilities. Credit: Netatmo
As with any product, spending more money doesn't necessarily guarantee you'll get a product, but we've yet to find a cheap weather station deliver genuine value. The vast majority of the budget stations available at chain discount and hardware stores are inaccurate. While temperature is generally accurate to within a degree or so, humidity is poorly measured, and readings can be 10 to 15 percent off actual values.
Mid-range and high-end weather stations are typically much better, and in my experience never more than about five-percent off most of the time.
Wind and rain measurements are very useful, especially if you have activities affected by that type of weather. High-end stations are nice to have if you can afford them; they're typically the most accurate, but unless you need specialty measurements—UV, soil moisture, and the like—don't spend the money.
Here are some other features you might want to look for in a weather station:
Accuracy: By far the most important, accuracy is also the hardest to gauge. Here we'd recommend looking at the spec sheets and choosing stations with low margins of error. Additionally, look through user reviews (or ours) for real-world testing. Not all weather stations are built the same, and a high price doesn't always mean high quality.
Battery or solar power? Just about all weather stations these days operate wirelessly, so your instruments will run on either battery or solar power. Avoid stations that rely mostly or solely on solar power, as a few dreary days can prevent the instruments from have energy stored to do their job. Battery-operated or solar-assisted units are the best choice—you might need to change the batteries once a year.
Previous Page 1 2 3 4 Next Page