Best home theater in a box: Take the guesswork out of pairing a surround-sound system with your TV
We review systems from Onkyo, Orb Audio, and Yamaha; one quickly rises to the top.
Movie-soundtrack processing Most movie soundtracks are encoded for surround sound using some variation of the Dolby or DTS codecs. Dolby Digital and DTS are part of the DVD standard, and the higher-resolution Dolby TrueHD and DTS-HD Master Audio are part of the Blu-ray standard. Dolby Atmos and DTS:X, described above, add the element of height.
Multi-room audio A multi-room audio system can play the same or different songs on speakers in different rooms inside your home, managed by a centralized controller (most commonly an app on your smartphone or tablet). Sonos is arguably the most popular multi-room audio system, but Yamaha (MusicCast), DTS (Play-Fi), and others have also introduced systems.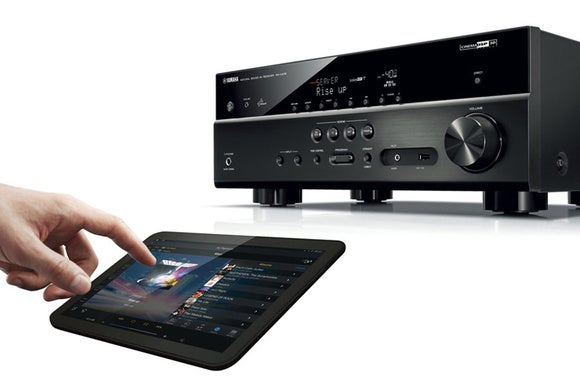 Yamaha's YHT-5920UBL HTIB features MusicCast, a multi-room audio-streaming technology. Credit: Yamaha
Multi-zone support Support for multiple zones—essentially being able to pipe media to other rooms—was much more important before multi-room audio became so affordable. The room in which the A/V receiver is located is considered Zone 1, a second room would be Zone 2, and so on. A receiver might have Zone 2 (or Zone 3, Zone 4, etc.) speaker terminals that enable the receiver's amplifier to drive speakers in a second room, or it might have line-level outputs that can send audio and/or video signals to an amplifier or TV in another room. The value of both types of zone support is limited unless there's also a provision to install a control mechanism—such as an infrared receiver—in those other zones that can carry command signals back to the receiver (to control volume, at a minimum).
Network support You'll need to be able to connect your A/V receiver to your home network if you want to stream music from a computer or network-attached storage device (aka a NAS box) on that network, or over the Internet using services such as Spotify. An RJ-45 ethernet connector provides the best connection, but an integrated Wi-Fi adapter is considerably easier to use.
Room-correction tools No room in the typical home will exhibit ideal acoustics. Door and window openings, unequal wall lengths, variations in width, uneven ceiling heights, and other features can wreak havoc on the soundwaves coming out of your speakers. Room-correction hardware and software can mitigate these issues, typically by analyzing the room with test tones and a microphone and making adjustments with an onboard DSP (digital signal processor). They can't do miracles, but they can make a bad situation better.
USB inputs
If you want to play media files stored on a USB storage device—or on a digital media player or your smartphone—you'll need a USB port to stream those files to your A/V receiver. Having a USB port on the front panel is obviously more convenient than having to reach around to the back.
Previous Page 1 2 3 4 5