Best home theater in a box: Take the guesswork out of pairing a surround-sound system with your TV
We review systems from Onkyo, Orb Audio, and Yamaha; one quickly rises to the top.
Digital audio inputs/outputs As an input, this connection lets you connect the output of various digital-audio devices, such as an outboard (and presumably higher-quality) DAC, to your system. As an output, this connection lets you route a digital audio signal from the receiver to outboard equipment, such as a DAC (see above).
Front-panel inputs/outputs You'll find the vast majority of an A/V receiver's I/O ports on its rear panel, because you don't want to see all that cable spaghetti on a daily basis. But you'll appreciate having some inputs and outputs on the front panel for making temporary connections. You'll want a headphone output at minimum. Having a USB port is convenient for making a hardwired connection to your smartphone or digital media player. And an HDMI input is extremely handy for connecting a digital camera or a laptop so you can display its output on the larger screen of your TV or video projector.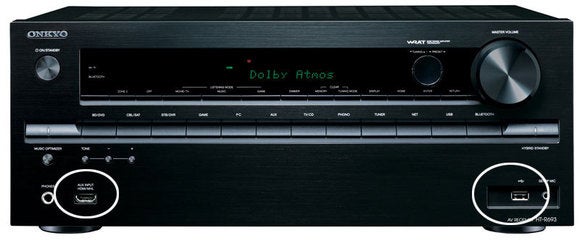 Front-mounted input/output ports can be very handy. I've circled the HDMI and USB ports are circled on this Onkyo HT-R693 A/V receiver, which is part of the Onkyo HT-S7700 HTIB.
HDCP The acronym stands for High-Definition Copy Protection, and the most recent version is HDCP 2.2. You'll need HDMI inputs and outputs with HDCP 2.2 to play back protected 4K UHD content from Ultra HD 4K Blu-ray discs. At this writing, less-expensive A/V receivers typically have only one such input and output.
HDMI inputs/outputs HDMI carries both digital audio and digital video signals on the same cable. The most recent version, which supports both 4K UHD resolution and high dynamic range (HDR) is HDMI 2.0a. The number of inputs you'll need depends on how many outboard devices you need to connect: A cable or satellite set-top box, a Roku or other media-streaming box, a Blu-ray player, a home-theater PC, a videogame console, and so on. The number of outputs you'll need depends on how many displays you want to connect. If you have both a TV and a video projector, for instance, you'll want a system with at least two HDMI outputs. Note that those displays also must support HDMI 2.0 and HDCP 2.2 in order to display copy-protected 4K UHD content.
Height channels Movie soundtracks encoded with Dolby Atmos and/or DTS:X treat audio events as objects that can be placed in three-dimensional space. They go beyond front left, right, and center; surround; and rear surround to take height into account. This is ideally accomplished by installing speakers in the ceiling at both the front and back of the room, but it can also be done with conventional cabinet speakers that have special drivers that bounce sound off the ceiling. This story provides an in-depth explanation of this concept.
Previous Page 1 2 3 4 5 Next Page