Best home theater in a box: Take the guesswork out of pairing a surround-sound system with your TV
We review systems from Onkyo, Orb Audio, and Yamaha; one quickly rises to the top.
Here's an alphabetical list of the most important specs and features to look for when you go shopping for your system.
Amplifier power This spec can provide some guidance as to how capable the system will be of filling your room with sound. Basically, the bigger the room, the more amplifier power you'll need. The spec you should care about will be expressed in watts per channel, e.g., "115 watts per channel x 7 channels." Don't get too hung up over this spec, it's probably one of the least important things you'll need to consider.
Audio codec support This spec is important only if you'll be streaming music from a smartphone or media player connected to the receiver via USB or Bluetooth, or from a server connected to your home network. Examples include (in alphabetical order):
AAC (a lossy codec commonly used by iOS devices)
Apple Lossless (ALAC is a lossless code commonly used by iOS devices)
AptX (an audio codec used in some Bluetooth streaming systems)
DSD (Direct Stream Digital, a high-resolution codec that originated with Super Audio CD, or SACD)
FLAC (a lossless codec commonly used by Android devices)
MP3 (a very common lossy codec)
Ogg-Vorbis (another lossy codec)
WMA (a lossy codec commonly used by Windows devices)
Audio return channel (ARC) An HDMI feature that sends audio from your TV to your A/V receiver or sound bar. It's most useful in scenarios where your TV is creating the audio; for instance, if you're using the TV's tuner to watch over-the-air broadcasts or a smart TV to listen to streaming music over the Internet.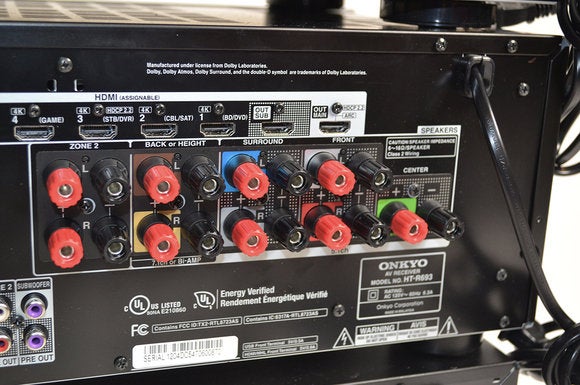 Another reason we chose the Onkyo as our top pick: Its receiver was the only one to have two HDMI outputs, which means it can support both a TV and a video projector. Credit: Theo Nicolakis
Component video inputs/outputs Component video splits analog video into three component signals. You won't need these connections unless you need to hook up an older TV, DVD player, other device to your system.
Composite video inputs/outputs Composite encodes video into a single signal. Here again, you won't need them unless you want to connect older hardware to your system.
DAC (digital-to-analog converter) Your receiver must have a DAC to convert digital audio signals to analog signals that can be amplified and sent to your speakers. Two specs measure a DAC's capabilities: Resolution (expressed in bits) and sampling rate (expressed in thousands of cycles per second, notated as kHz). A 24/192 DAC is capable of decoding a digital signal encoded with up to 24 bits of resolution at a maximum sampling rate of 192kHz. These specs measure conversion capability, not necessarily the quality of the resulting conversion.
Previous Page 1 2 3 4 5 Next Page