Best home theater in a box: Take the guesswork out of pairing a surround-sound system with your TV
We review systems from Onkyo, Orb Audio, and Yamaha; one quickly rises to the top.
Yamaha's $600 YHT-5920UBL is our third pick. It's the least expensive of the three, and it's the only one that's capable of delivering genuine multi-room audio right out of the box, thanks to its support for both Yamaha's own MusicCast technology and Apple's AirPlay. The downside, in our book, was the quality of its sound from its plastic speakers.
For details about how each system was tested, and a guide to the features you should look for when shopping for a home theater in a box, read on.
How we tested
Each of the three HTIB systems evaluated here was tested in the same 24-foot-long by 13-foot-wide home theater. In my first listening sessions, I set up each system in the appropriate locations in the room: The front right and left speakers were placed on either side of my TV, elevated by 24-inch stands, and the center speaker was placed below the TV. I placed the surround speakers about two feet behind my listening position. I used the cables provided with each system to connect the speakers to the A/V receiver.
I then calibrated each system using its built-in room-correction software. I used 5.1-channel mode (or Dolby Atmos mode, where appropriate) to evaluate performances with movies, and 2.1-channel mode to evaluate performances with stereophonic music. All other onboard DSP (digital signal processing) modes were disabled.
For my second round of listening tests, I set up all three systems with the speakers placed as close together as I could (in the same locations in which they were tested in the first round), and I level-matched each to the other before performing A/B/C listening tests. I used the Pink Noise track from Revel's LFO-optimizer CD to set the volume of each system at 75dB for reference-level listening. I used a Radio Shack analog SPL meter for those measurements. If you don't level-match the equipment you're evaluating, you can wrongly perceive something that's just louder as sounding better.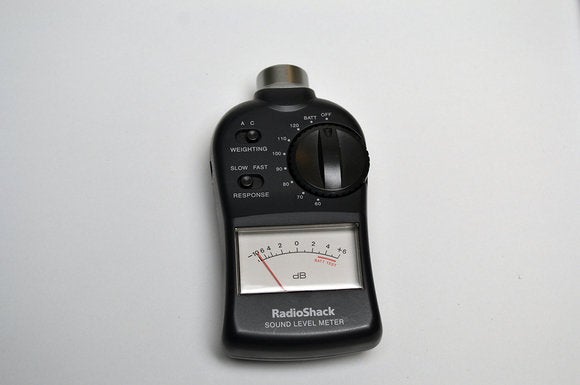 Each system was level-matched using an SPL meter. Credit: Theo Nicolakis
I played the same demo material on all three systems: AAC-encoded files for music (the soundtrack from Star Wars: The Force Awakens, and Loreena McKennitt's live album, From Istanbul to Athens). I evaluated home-theater performance using movies on Blu-ray discs, including Mad Max: Fury Road.
Features to look for when you shop
The feature sets in audio systems are typically driven by price: The bigger your budget, the more features you'll find. That's not the case with these home-theater-in-a-box systems. The least-expensive product—Yamaha's $600 YHT-5920UBL—has multi-room capabilities that the two pricier systems don't deliver. And the most-expensive system—Orb Audio's $999 Complete Home Theater—can't connect to a home network.
Previous Page 1 2 3 4 5 Next Page