Best home theater in a box: Take the guesswork out of pairing a surround-sound system with your TV
We review systems from Onkyo, Orb Audio, and Yamaha; one quickly rises to the top.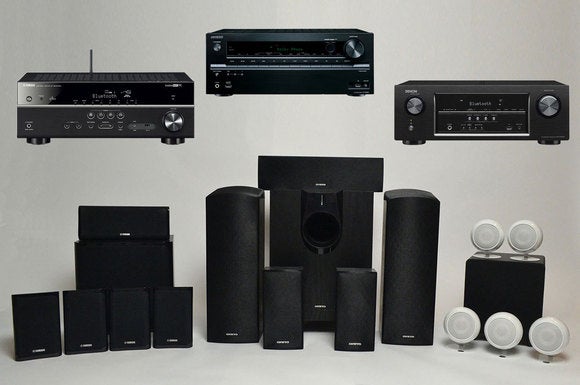 Modern high-end TVs look beautiful and can deliver awesome picture quality despite their wafer-thin designs. What they can't do is deliver audio performances to match. There's just no getting around the laws of physics: The thinner TVs become, the less space is available in their chassis to house quality speakers. The result? Muddy dialog. You need to crank up the volume just to hear what's being said. Bass? Are you kidding me! What bass?
If you're serious about getting the best experiences from TV shows, movies, and music videos, you need a dedicated audio system. If find the prospect of setting up a true surround-sound system with sonically matched components to be too daunting and expensive of a prospect, consider purchasing a home theater in a box (HTIB).
What about sound bars, you ask? They are definitely another convenient solution; in fact, they're even easier to set up. But while most will deliver a better audio performance than a TV's speakers, they just cannot take the place of discrete speakers for surround-sound effects. If you want the best surround-sound presentation on a budget, a HTIB is the better way to go.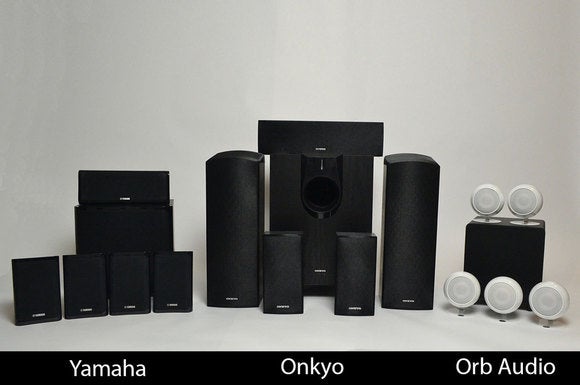 A home-theater-in-a-box systems will come with an A/V receiver, a least five satellite speakers, and a subwoofer. Credit: Theo Nicolakis
An HTIB contains everything you need for the audio element of a true home theater system. They typically include five speakers (right, left, and center speakers for the front of the room, left and right surround channels for the rear sides of the room, and a subwoofer for deep bass and low-frequency effects), precut cables, and an A/V receiver that ties the entire system together, much like the conductor in a symphony.
TechHive recommends
We evaluated three HTIB systems, on its own merits. The one that's exactly right for you will require you to balance your wants, needs, and must-haves. Since our primary consideration was performance in a home-theater setting, Onkyo's $899 HT-S7700 is our top pick, because it's the only one of the three systems to support the immersive audio technology Dolby Atmos. Dolby Atmos supports height as well as surround channels. Onkyo also did the best job of balancing features and performance, and it was the easiest system to set up.


Onkyo's HT-S7700 HTIB was the only system in this roundup to feature Dolby Atmos Immersive Audio. Credit: Onkyo
Orb Audio's $999 Complete Home Theater is our runner-up. If you want the system that delivers the best overall sound with the smallest physical footprint—and don't mind giving up Dolby Atmos, networking, and built-in streaming services such as Spotify—this is the system to buy.