Belkin significantly expands its WeMo connected-home product line at CES 2015
The whiz-bang WeMo Water with Echo Technology is easily the most interesting, but it's just one of seven all-new devices.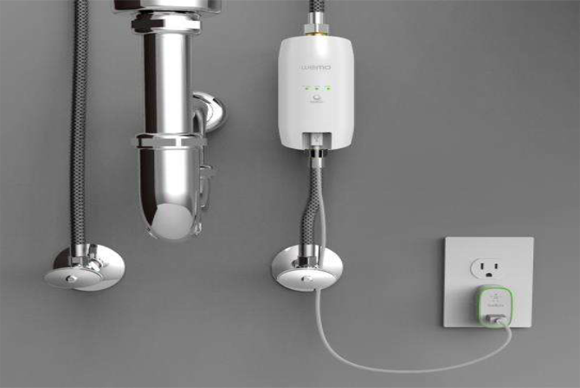 LAS VEGAS--Belkin got into the connected-home market early with its WeMo brand, and the company announced a significant expansion of that product line at CES today. Belkin showed a raft of new sensors, a Wi-Fi-to-Zigbee bridge, and even tools for monitoring your home's water and power consumption.
Water sensor
The WeMo Water with Echo Technology is the most interesting item in the new collection. Attach it to any one water pipe in your home, and it monitors pressure changes and vibrations that occur throughout the plumbing and sends this data to an app on your phone. Belkin claims the "WeMo Water can identify usage time, duration, and cost of any end-unit on the system (showers, bathtubs, sinks, toilets, etc.), accurately calculate water consumption per object, and even alert users to potentially devastating damage and leaks."
That sounds pretty remarkable. Unlike some other water sensors, however, Belkin's solution apparently isn't capable of shutting off your water supply if it detects a leak. Still, being alerted to a water leak would enable you to take quick action, even if you're away from home, to reduce the extent of any water damage. Two years ago, I returned home after being away for a week to discover a burst pipe spewing water out of the ceiling in my garage. I was fortunate that the damages were limited to the garage, but the repair bill still topped $30 grand.
Door/window sensor
One of my criticisms of WeMo's lighting control has long been that it depends on a nearby motion sensor. Door/window sensors are a better solution, because the simple act of opening a door can trigger numerous lights to come on. So I'm happy to report the coming availability of WeMo door/window sensors.
Like most sensors in this class, you mount one half of the sensor to the door or window and the other half to the door or window frame. The two pieces form a magnetic field and emit a radio signal when the door or window opens, separating the sensors and breaking that field.
This type of sensor is also useful for alerting you when other types of doors are opened and closed. You could put one on your liquor and medicine cabinets, for instance, to warn you about unauthorized access. Or they could relay a message to your thermostat that you've come home and that your HVAC should go into action. And unlike a motion sensor, they can report the status of a door or window: open or closed.
Keychain sensor
The WeMo Keychain Sensor generates alerts when the person carrying the keyfob leaves and returns home. Affix one to your child's belt loop and it will let you know when they leave home for and return from school.