Battle of the LED light strips: Philips Hue Lightstrip Plus vs. Belkin WeMo + Osram Lightify Flex RGBW
Each has its advantages and shortcomings. Find out which is best for your needs.
The apps
Those only vaguely aware of Hue's lighting reputation might be surprised at its relatively barren app, which is little more than a home for setting scenes and alarms-timers. The "alarms" baffled me, too: You use them to set rules, such as turning lights on or off at specific times.
So where's the party with the lights synced to music? You'll find Hue's best tricks enabled by IFTTT (If This Then That) recipes and third-party apps. Hue, hands down, is the better entertainer. It can sync with movies, simulate fireworks, and bring Christmas (or World Cup soccer) sounds and lighting effects into your home.
Among the more practical recipes: Setting lights to turn on when you get home, or adjusting color temperature at 10 p.m. to a more sleep-appropriate 3500K.
Hue also syncs with the Nest thermostat, a "Friend of Hue:" If the Nest senses smoke, it will alert the household by activating Hue-connected lighting. WeMo lighting duplicates that feature with an IFTTT recipe; but until Belkin adds HomeKit support, WeMo will lose the smartest-bulb race—at least among Apple households.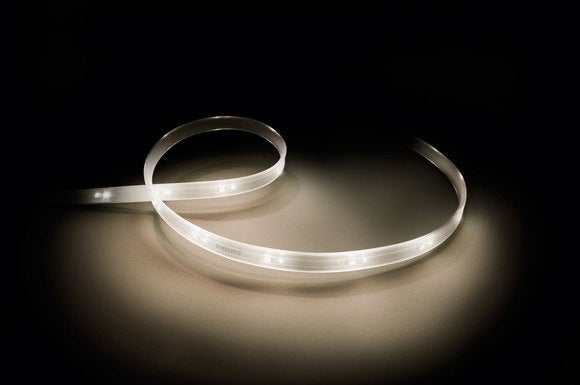 Philips Hue Lightstrips are the best choice for Apple households, as the second-generation Philips Hue bridge is compatible with Apple's HomeKit technology. Credit: Philips
The second-generation Hue bridge also allows you to use Apple's Siri and Amazon's Echo voice-activated digital assistants to turn lights on or off. Three original WeMo devices–the Switch, Insight Switch, and Light Switch—work with the Echo, but Osram's Lightify strips do not.
Still, the basic WeMo app is stronger than Hue's, with sunrise-sunset settings, a sleep fader that dims light gradually at bedtime, and an away mode that turns lights on and off at irregular internals to give the appearance someone is home.
Having two controllers in my under-cabinet installation, however, I couldn't get the sunrise-sunset mode to work or successfully schedule each setup to turn on or off simultaneously. One invariably worked, the other did not. Grouping the two strips finally synced them, but Belkin says that will not always work because of the lag between grouped strips caused by the ZigBee network layer.
Matching color temperature of lighting in a two-controller system to a precise numerical value (am I the only one mired in the nostalgia of the 2700K incandescent?) is possible only with Lightify's separate numerical key that supplements an adjustable color wheel. (Hue's app uses a color-picker that allows matching color temperature of various lights, but without a corresponding numerical value.)
Both the Hue and WeMo systems provide superb lighting accents around the home. So which flexible, dimmable, app-controllable LED strip is right for you?
Previous Page 1 2 3 4 Next Page