Battle of the LED light strips: Philips Hue Lightstrip Plus vs. Belkin WeMo + Osram Lightify Flex RGBW
Each has its advantages and shortcomings. Find out which is best for your needs.
What you can't do is connect other WeMo devices to a Hue bridge—and there are lots of other WeMo devices, ranging from motion sensors to smart kitchen appliances such as crock pots and coffee makers. Samsung's SmartThings Hub ($99) is a potential unifier here. It's compatible with a number of devices in Philips' Hue lineup, Belkin's WeMo product line, and Osram's lighting products.
The lights: The Lightstrip Plus owes its enhanced brightness to white-light diodes installed next to RGB diodes. Unlike the original, the Plus illuminates in gradations of white light (from 2000- to 6500K). It reaches peak brightness—1600 lumens—at 4200K. At 2200K, it's rated at 600 lumens maximum.
Each WeMo/Lightify 2-foot strip includes 12 multicolored LEDs rated at a maximum 1400 lumens. Both strips, Hue and WeMo/Lightify, offer a palette with up to 16 million colors.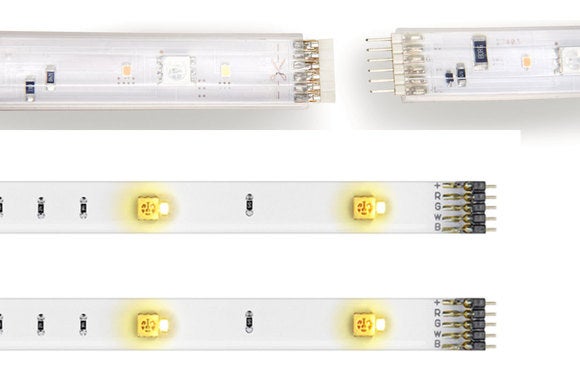 Philips' Hue Lightstrip is at the top, and Belkin's WeMo Osram Lightify is at the bottom. Credit: Philips (top) and Belkin (bottom)
Installation
It's hard not to love cut-to-fit LED strips. Where smart lighting isn't necessary, dumb strips are even less expensive: An 8-foot LED flex strip with controller, power supply and standard remote costs less than $45 at Home Depot.
For my under-cabinet and white-light kitchen project, this Hue and WeMo owner preferred the Lightify strip's shorter, more adaptable lengths. Join the 2-foot strips with the five-pin connecters, trim any excess—both systems use "cut-here" scissors icons—and affix the strip after peeling off the 3M double-sided tape protector from its backside.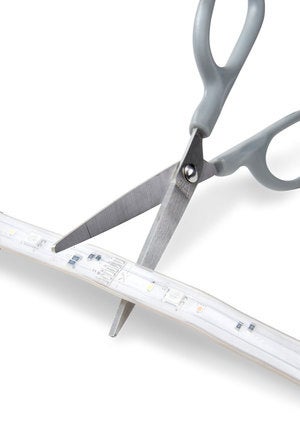 Both lightstrip models can be cut to size (with limitations). Credit: Philips
Once cut, however, the three-times longer Lightstrip Plus behaves like an earthworm: The part with the vital organs (the strip's attachment to the controller and power supply) survives and the severed part dies. Consider potential waste before starting a project.
So far, no do-it-yourselfer should fear working with either lighting system. I wanted a clean look to my under-cabinet lighting, so to hide the power supply and controller I hired an electrician to install outlets inside two kitchen cabinets.
Why two cabinets? My under-cabinet lighting is interrupted by a sink, so I needed a controller and power supply for one strip of lights, and a second one for the other strip. This setup–about 10 feet of cabinetry separated by a sink–would need two Lightstrip Plus kits ($90 each) and one Hue bridge ($60), or about $240 in all.
Going the WeMo route would require a starter kit with a WeMo Link ($120) and a Lightify Flex kit ($65), giving me 12 feet of strip lighting for about $185.
Previous Page 1 2 3 4 Next Page