Battle of the LED light strips: Philips Hue Lightstrip Plus vs. Belkin WeMo + Osram Lightify Flex RGBW
Each has its advantages and shortcomings. Find out which is best for your needs.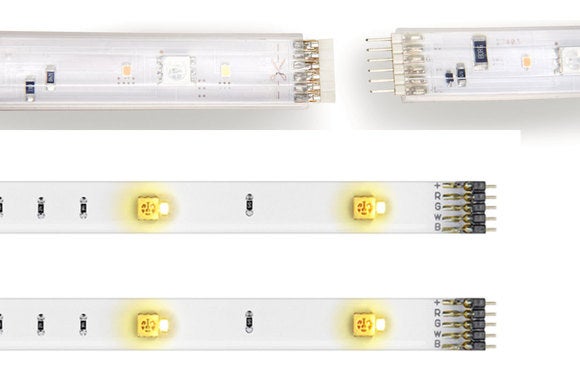 LED light strips can be both fun (think synching lights to music under a disco ball) and practical (as I discovered with under-cabinet lighting in the kitchen). Here we compare the two main choices for DIYers in this category: the updated Philips Hue Lightstrip Plus, and the Belkin WeMo + Osram Lightify Flex RGBW.
Philips wisely discontinued its first-generation Hue Lightstrip. That product was smart enough that you could program it to change colors when the International Space Station passed overhead, but it left out white light and was about as bright as a 15-watt incandescent bulb.
The new Philips Lightstrip Plus cranks its maximum brightness to 1600 lumens, an increase from the 120-lumen original, and it delivers tunable white light. Thanks, Hue. Now I can see your face. The 79-inch (two-meter) stock length remains, but the Lightstrip Plus also offers 40-inch extension strips that can extend the system's reach up to 33 feet. The increased brightness, white light, and cut-to-fit extensions make the Lightstrip Plus a candidate for both fun time and more serious household tasks.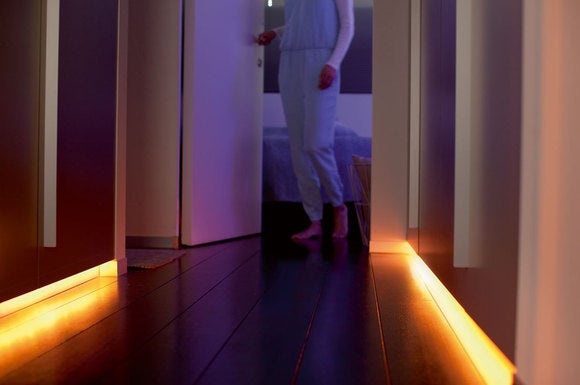 One of the many practical applications for strip LED lighting is to illuminate a hallway path (although not all homes have recessed baseboards like this). Credit: Philips
Hue's pool of 450-plus third-party apps–you can't sync music and lights or monitor the space station without one–and HomeKit/Siri support in the second-generation Hue ZigBee bridge—are clear competitive advantages over Belkin's WeMo + Osram Lightify Flex RGBW kit. You can control WeMo devices with an iOS device, but they're not currently compatible with HomeKit.
Philips makes the assumption you're already part of the Hue family and doesn't include the bridge you'll need in its $90 package. If you don't already have one, you'll need to spend an additional $60 to acquire one. Short of unplugging the power adapter, you can't control Philips' light strips without a Hue bridge.
Belkin adopted Osram Sylvania's Lightify Flex RGBW light strip into the WeMo family, and it offers a ready-to-go starter kit that includes a WeMo Link, controller, power supply, and a trio of 24-inch LED strips for $120. If you already have other WeMo devices, and hence don't need the Link, you can buy the same package without it for $65.
You can mix and match—to a point
Philips' Hue bridge can also control other smart bulbs that use the ZigBee Light Link standard, including Osram Sylvania's. (Philips, in a December firmware update, eliminated Hue support for Osram, Cree, and GE bulbs, but reversed course within 48 hours under a crush of online criticism.)