Avvo review: On-demand legal advice for the iPhone generation
Avvo makes it easy to find, research, and contact lawyers in your area without hidden fees or long-term subscriptions.
I wasn't able to find attorneys offering fixed-fee immigration services in my local area, but there were several to choose from an hour north of my home. The app made it easy to browse and save profiles, which include Avvo ratings, client reviews, a photo of the prospective lawyer, and embedded map with one-tap directions. Everything is well laid-out and easy to navigate, although starting a new search could be a little more intuitive. (Instead of tapping Find a Lawyer, you have to select Filters, then Reset.)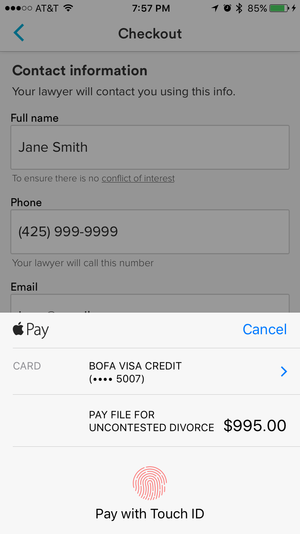 Talk about convenient: Avvo supports Apple Pay for simple checkout when purchasing fixed-fee legal services.
We settled on a Cleveland-based attorney licensed in 2004 who specializes in immigration. Profiles include buttons to call or email the lawyer, but I selected the flat-rate "Apply for US citizenship" package instead, which includes start-to-finish help with the application and filing. The entire procedure took minutes, and our friendly lawyer (whose Avvo rating is 10 out of 10) contacted my wife the next business day to schedule a face-to-face meeting and get the paperwork started.
Naturally, more complicated legal problems require additional time and money, but Avvo streamlines the process in a user-friendly way wherever possible. Fixed-fee services clearly explain what's included and what's not, and profiles provide a good sense of who you'll be dealing with. All that's really missing are web-based features like creating legal forms or the ability to access Avvo's free advice Q&A, for example.
Bottom line
If the mere thought of finding and hiring an attorney sends a chill down your spine, it's time to eliminate that anxiety with Avvo.