Australia goes hi-tech to tame shark attack fears
Acoustic buoys and drones are planned to better detect sharks.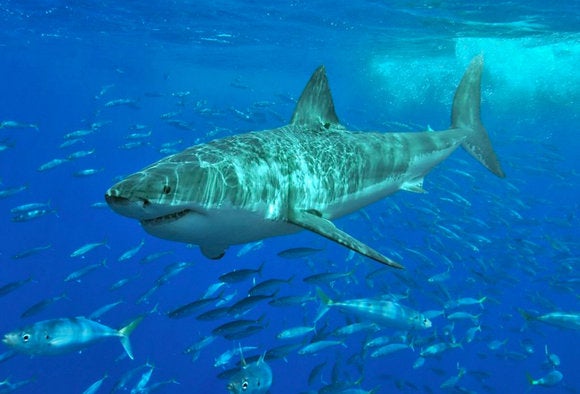 A great white shark near Isla Guadalupe, Mexico, in Aug. 2006. Credit: Terry Goss
Australia is investigating hi-tech solutions to prevent shark attacks, which are rare but highly publicized events in the water-loving country.
This year has been particularly tough in the state of New South Wales, with more than a dozen reported shark attacks, including one which resulted in the death of Tadashi Nakahara, a Japanese surfer, near Ballina.
On Sunday, the state's government announced it would spend AU$16 million (US$11.6 million) over the next five years trying shark mitigation strategies, almost half of which will be spent on new aerial detection methods and sonar-emitting smart buoys.
Sharks have been around for 350 million years. Australia began installing netting designed to block sharks from entering calmer sections of beaches in the 1930s.
But New South Wales has more than 900 miles of beaches, and surf conditions are too rough at many to deploy nets or barriers.
The fear of sharks hit a fevered pitch in Western Australia, where government started capturing and killing sharks in early 2014 using baited drum lines. The program was eventually abandoned amid widespread criticism and questions over its effectiveness.
Bull, tiger and great white sharks are the most common ones to have run-ins with surfers and swimmers in Australia.
Although the risk of attacks are extremely unlikely, shark attacks tend to provoke a fear in people even though riding in a car poses a greater risk by many orders of magnitude.
"We tend to react more to death by shark than by any other means," said Daniel Bucher, a marine ecologist with Southern Cross University in Lismore, NSW, which is close to an area that has reported an increase in shark encounters.
One area marked for a $3.5 million investment is shark spotting. It's not uncommon on good beach days to see helicopters flying over crowded coastal spots, which can see sharks in clear waters and provide an early warning.
A natural evolution of that strategy is to also use much cheaper drones instead. NSW said it planned to trial unmanned aerial devices or drones, although the locations for the trials haven't been picked yet.
The state government also plans to try five so-called "Cleverbuoys." The buoys use multi-beam sonar to identify objects underwater.
Previously only used by the oil and gas industry, the cost of such buoys has dropped, according to a government-commissioned study on shark detectors and deterrents released earlier this month.
The buoys have a CPU and a modem that connects to a mobile provider, with a satellite connection as a backup. The software, made by Tritech International based in the U.K., is designed to gauge a level of probability that a shark -- defined as a two-meter, self-propelled object -- is nearby and could be configured to text a lifeguard.