AT&T has fastest LTE service, T-Mobile off to strong start
For the second year in a row, AT&T's LTE service has proven to be the fastest in our survey of wireless broadband performance across the United States. T-Mobile LTE appears to be spreading rapidly, and is pumping out high speeds. Verizon LTE is reasonably quick and easily the most pervasive, while Sprint LTE lacks speed in urban centers.
Those averages put Sprint last in our speed rankings for 4G service. In fact, Sprint's average download speed was less than half the speed of the third-place finisher, T-Mobile, and roughly a third of winner AT&T's average download speed.
Of our 20 testing cities, Sprint has launched its new LTE service in seven: Atlanta, Boston, Chicago, Dallas, Houston, Kansas City, and Los Angeles. But the carrier is testing the service in Ann Arbor, Miami, New York, Philadelphia, San Diego, San Francisco, and Washington D.C., where we were able to perform enough tests to generate an average score.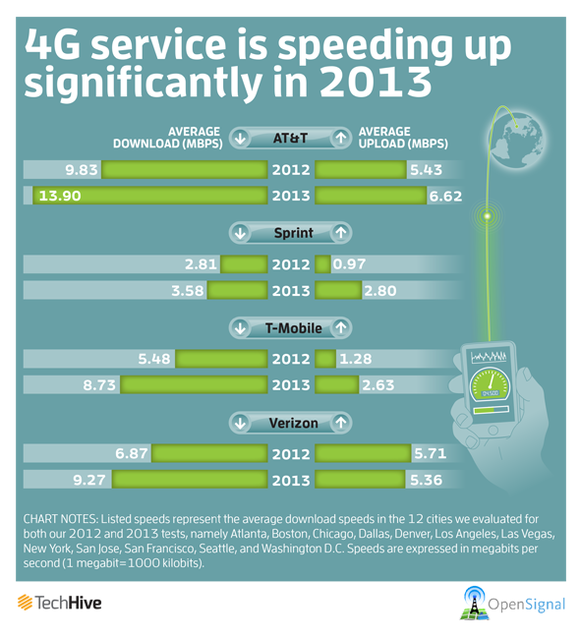 Sprint LTE didn't average download speeds of more than 5 mbps in any of the seven cities we tested on the East Coast. We saw the fastest download speeds from the Sprint network in Kansas City and San Diego, where it averaged about 10 mbps. We recorded download speeds averaging about 7 mbps in Los Angeles, and roughly 5.5 in Chicago and Houston. But the rest of Sprint's city averages looked more like the 3G-network speeds of AT&T and T-Mobile.
Sprint says it is building its LTE network in the suburbs first, and then moving into the city core (where we tested). This arrangement, the company says, may account for some of the low scores we saw. Sprint spokesperson Kelly Schlageter also points out that the new network is still being built.
"The study found LTE signal in six markets that haven't launched, and solid speeds in markets where we have," Schlageter says. "We are not done yet and expect that our customers will benefit from additional improvements as the work progresses."
Not all are created equal
As our results show, you can find some real differences in the quality of 4G mobile broadband. "The results of the PCWorld/TechHive test clearly demonstrate that not all 4G, and not even all LTE, is created equal, with average download speeds varying by a factor of more than three times among competitors," points out Dan Hays, U.S. wireless advisory leader at PwC.
And the differences between services aren't likely to go away, Hays notes. "With LTE standards and available spectrum driving even greater performance variances, wireless users can expect to see the performance gap continue to widen further--perhaps to as much as a factor of ten times--in the years to come."
Previous Page 1 2 3 4 5