AT&T has fastest LTE service, T-Mobile off to strong start
For the second year in a row, AT&T's LTE service has proven to be the fastest in our survey of wireless broadband performance across the United States. T-Mobile LTE appears to be spreading rapidly, and is pumping out high speeds. Verizon LTE is reasonably quick and easily the most pervasive, while Sprint LTE lacks speed in urban centers.
"T-Mobile's 4G LTE network rollout is moving at a speed that's unprecedented in the U.S. wireless industry--we'll go from seven metro areas today to nationwide by the end of the year, with many major metros launching next month," said T-Mobile U.S. CTO Neville Ray in a statement to PCWorld/TechHive.
Where the LTE network is not yet available, T-Mobile 4G-device users can connect with the carrier's HSPA 21 and 42 services, which the carrier also markets as "4G."
Because of the considerable speed of the HSPA 42 service, we accepted T-Mobile's "4G" designation for the purposes of our study, and pitted the service against the LTE services of its competitors.
T-Mobile's two 4G services--HSPA 42 and LTE--together produced an average 4G download speed of about 9 mbps in our 20 test cities. That score put T-Mobile in a virtual tie with Verizon LTE for second place in our study.
Average upload speeds came in at 2.65 mbps, the lowest average for uploads in our four-carrier race. T-Mobile's service also produced the highest average network latency time in our study, at 124 milliseconds (still responsive enough to support real-time services like VoIP).
We were able to perform 653 speed tests of T-Mobile's new LTE service in seven cities: Houston, Kansas City, Las Vegas, Phoenix, San Francisco, San Jose, and Washington, D.C. Taking those results alone, T-Mobile LTE clocked an average download speed of 14.94 mbps and an average upload speed of 6.86 mbps. We recorded a superlow average network latency of 54 seconds, which suggests a network with very few devices connected to it.
T-Mobile's overall 4G speeds improved considerably in the 12 cities where we tested in both this year's and last year's study. In those cities, T-Mobile's download scores improved from 5.48 mbps last year to 8.73 mbps this year. Upload speeds improved from 1.28 mbps to 2.63 mbps this year.
T-Mobile's fastest cities were San Francisco and San Jose, where we measured downloads in the 17.5-mbps region. We also saw high download speeds in Phoenix, where downloads averaged about 14 mbps. In the remainder of our testing cities, however, T-Mobile download speeds failed to break into double digits.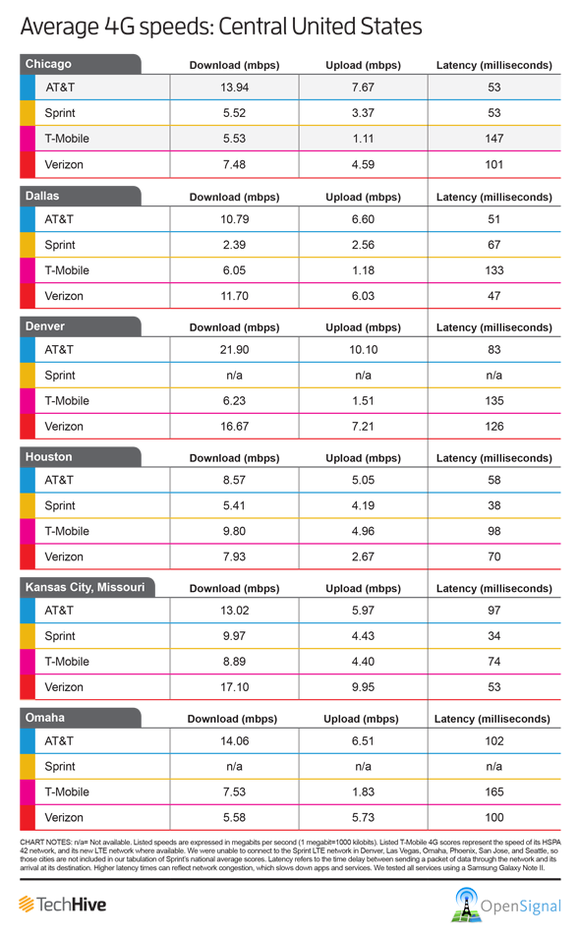 Sprint LTE has reach but not speed
Sprint introduced its all-new 4G LTE network in July 2012 and now offers LTE service in 88 U.S. markets. Sprint says it will add another 170 LTE markets over the next few months. Unfortunately, the reach of Sprint LTE seems to be growing faster than its speed.
Sprint says that it's seeing average LTE download speeds of 6 to 8 mbps and average upload speeds of 2 to 3 mbps, but our tests recorded the network at an average of 4.32 mbps for downloads and 2.76 for uploads in the 14 cities where we could connect to the service.
Previous Page 1 2 3 4 5 Next Page