AT&T has fastest LTE service, T-Mobile off to strong start
For the second year in a row, AT&T's LTE service has proven to be the fastest in our survey of wireless broadband performance across the United States. T-Mobile LTE appears to be spreading rapidly, and is pumping out high speeds. Verizon LTE is reasonably quick and easily the most pervasive, while Sprint LTE lacks speed in urban centers.
But our test results suggest that Verizon's LTE service has been gaining speed, not losing it. Verizon's LTE registered a healthy 9.61-mbps average download speed across our 20 testing cities, an improvement of roughly a third over the service's scores in last year's tests. That average speed falls comfortably within the range Verizon tells its LTE customers to expect: 5 to 12 mbps.
The service's tested upload speeds exceeded the range the carrier promises (2 to 5 mbps), clocking in at 5.47 mbps on average.
We recorded the fastest Verizon LTE speeds in San Diego and Seattle, where we saw average downloads of roughly 18 mbps and uploads at a solid 8 mbps. Verizon's scores in those cities were about twice as fast as T-Mobile's 4G speeds in those cities, but slightly less than AT&T's. Verizon also pumped out download speeds in the mid-teens in Kansas City and Denver.
We saw the slowest performance of Verizon's LTE network in Washington, D.C. (2.24-mbps downloads and 3.69-mbps uploads). It was also slow (relative to AT&T and T-Mobile) in Atlanta (4.81-mbps downloads and 4.10-mbps uploads) and in Phoenix (4.81-mbps downloads and 4.16-mbps uploads).
Verizon has 24 LTE smartphones and seven tablets available in its stores. Between January and April, Verizon gained 5.9 million new LTE-device activations, with roughly 2 million of those being iPhone 5 activations. (Although 4 million iPhones in total were activated, only the iPhone 5 is compatible with Verizon's LTE network.)
Other LTE models include Apple's iPad; Samsung's Galaxy S III, Galaxy Note and Note 2, and Galaxy Tab; and the BlackBerry Z10. We'll likely see more Verizon LTE customers once the carrier starts shipping the highly anticipated Samsung Galaxy S4 on May 30.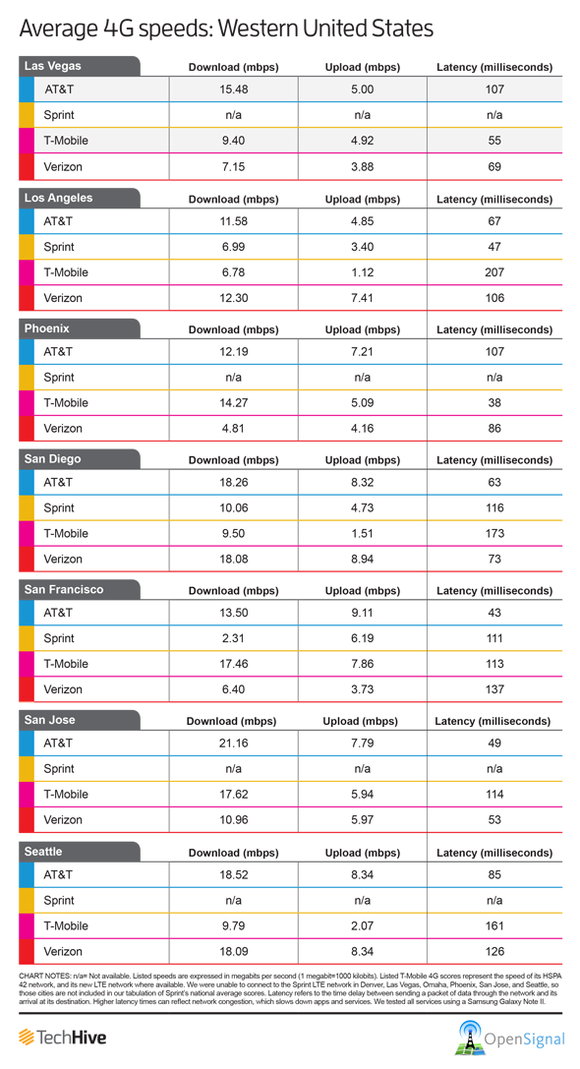 T-Mobile starts strong in LTE
T-Mobile has gotten its game on with its network in the past year. The carrier had been selling HSPA+ service and labeling it "4G," but in April the company launched its own LTE network, which some people consider to be a true 4G technology. The new service is now officially available in Baltimore, Houston, Kansas City, Las Vegas, Phoenix, San Jose, and Washington D.C., though we were able to measure the signal in several other as-yet-unannounced cities.
The iPhone 5 that T-Mobile began selling on April 12 is fully compatible with the LTE network, which will allow for speeds of 20 mbps or better for buyers lucky enough to live in a T-Mobile LTE city. T-Mobile has sold more than 500,000 iPhone 5 units as of May 8. The carrier says that it plans to grow out its LTE network to many more cities by the end of this year, coming within range of 200 million people.
Previous Page 1 2 3 4 5 Next Page