AT&T has fastest LTE service, T-Mobile off to strong start
For the second year in a row, AT&T's LTE service has proven to be the fastest in our survey of wireless broadband performance across the United States. T-Mobile LTE appears to be spreading rapidly, and is pumping out high speeds. Verizon LTE is reasonably quick and easily the most pervasive, while Sprint LTE lacks speed in urban centers.
AT&T's average upload speed dipped below 5 mbps in only four cities: Ann Arbor, Atlanta, Los Angeles, and New York. AT&T's fastest city for uploads was Denver, with an impressive average speed of just above 10 mbps. At that rate, you can upload a 7.5MB video in 11 seconds.
"We believe this study validates the good experience we're working hard to provide our customers, combining the nation's fastest 4G LTE and the nation's largest 4G network," said AT&T VP of network technologies Kris Rinne in a statement. "We're proud every time an independent source points this out."
AT&T's 4G LTE isn't nearly as widespread as its HSPA+ service (which the company markets as 4G service), and customers' LTE-ready smartphones default to HSPA+ when LTE isn't available. Rival Verizon has a definite advantage over AT&T in the reach of its LTE service: Currently AT&T's LTE network is accessible to 220 million people, while Verizon's network comes within range of 287 million.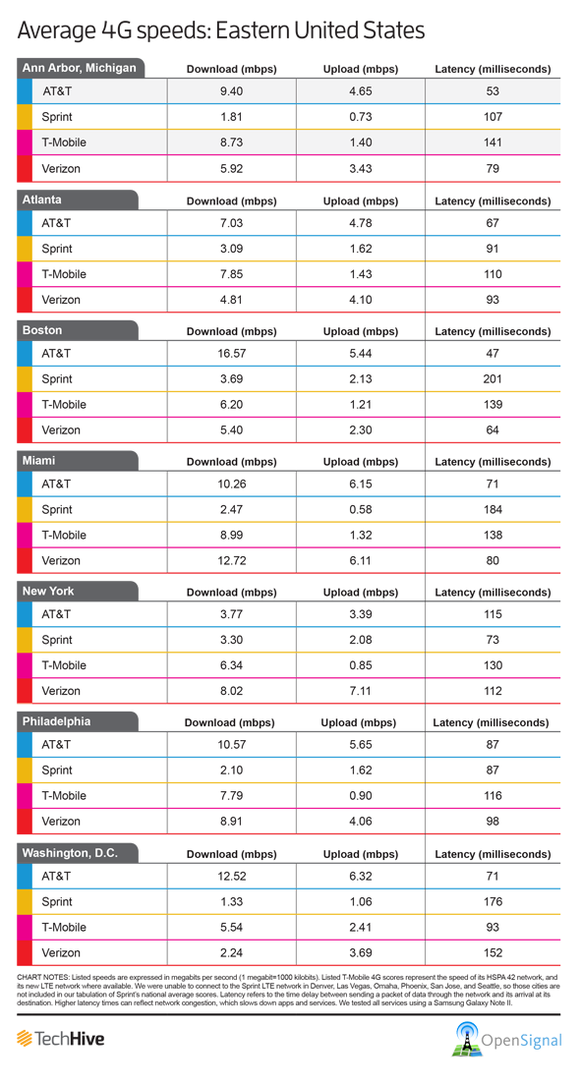 Verizon LTE keeps pace
Verizon Wireless didn't post the fastest LTE speeds in our 20 testing cities, but it does have the largest and most robust 4G LTE network in the country. The carrier seemed to announce expanded coverage in new cities almost weekly between May 2012 and May 2013, and now offers LTE in 497 U.S. cities. LTE service is available in roughly 95 percent of the carrier's 3G coverage area.
Verizon's contention is that although wireless speeds are important, the breadth of the LTE coverage is more critical. Verizon's LTE speeds may not be the highest everywhere, the company says, but the network is fast enough for the tasks that mobile users want to do, and it allows them to perform those tasks as they move from the city centers out into the suburbs or less-populated areas of the country.
"There are many ways of testing performance, yet not all are valid or tell the whole story. It's important to recognize that the customer experience depends more upon consistent speed," Verizon said in a written statement responding to our test results. "Additionally, it's important to recognize that reliability, accessibility, and coverage ... are most meaningful to customers."
Obviously, however, speed remains important, especially if you are a Verizon customer who wishes to do things like stream video or video chat.
In recent years, some observers wondered whether Verizon's LTE throughput speeds would diminish as more and more devices connected to the network since its launch in late 2010. According to Verizon's most recent quarterly earnings report, 61 percent of Verizon's customers currently have smartphones with data plans, with 28 percent being on the company's LTE network. LTE subscribers are also using 54 percent of Verizon's total data, an increase compared with last year.
Previous Page 1 2 3 4 5 Next Page