As energy push accelerates, battery costs set to plunge 60 percent
Lithium-ion batteries will drop from US$550 per kilowatt hour (kWh) in 2014 to US$200 per kWh by 2020.
That means flow batteries have the potential to be less expensive than Li-ion. They also last longer, according to Frankel. At full discharge, Li-ion batteries last only four hours. To double that length of charge, another complete battery unit must be added, Frankel said.
Flow batteries get their name because they use liquid chemicals (electrolytes) that are separated by a membrane. The reaction between the two chemicals frees up electrons, creating electricity.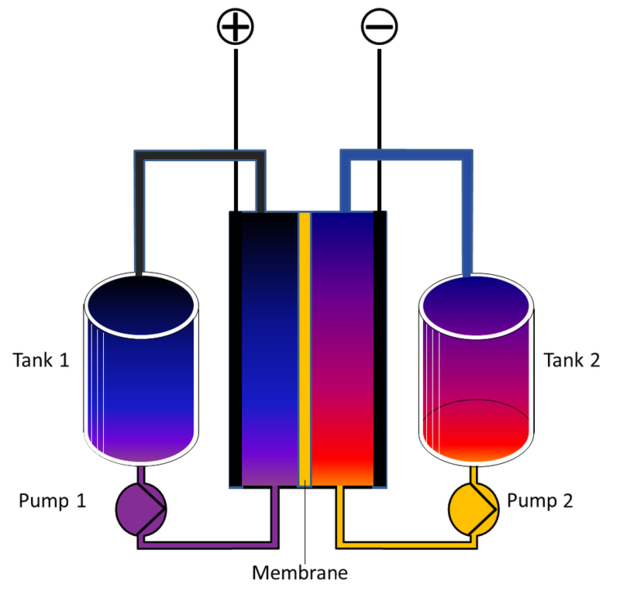 The basic concept behind how a flow battery works. Creative Commons Lic.
One problem with flow batteries is that they're enormous. In order to power a house, you'd need a flow battery about half the size of your garage, Frankel said.
Li-ion batteries, like Tesla's, can hang on a garage wall.
In the end, the distributed energy market will probably use a range of different battery technologies, Frankel added.
Lux Research's figures for battery prices between now and 2024 differ from the ARENA report, but still anticipate price drops. For a flow battery system, the cost is currently $755/kWh for a 4-hour battery, according to Lux. That cost is expected to fall to $516/kWh by 2024. For large scale Li-ion systems, costs will fall from $626/kWh in this year to $498/kWh in 2025, according to Lux Research.
So on a per-kilowatt basis, flow batteries will almost always be more expensive. However, on a per-kilowatt-hour basis (i.e., how long they can run, depending on how large the electrolyte fluid tanks are) they can be cheaper. The larger the tanks, the more power you can get.
According to the ARENA report, energy storage adoption is likely to occur as a 'megashift' rather than incremental impact on the electricity industry, "due to the rapidly changing economic proposition as well as the disruptive influence on the market."
"Energy storage technology has developed tremendously in recent years and is expected to continue to grow," the report said. "While the costs are still prohibitively high for mass deployment, the trend of reducing costs for battery technologies such as lithium-ion and flow battery technologies suggests that there will be a dramatic shift towards these technologies in the next one to two decades."
Previous Page 1 2 3