As energy push accelerates, battery costs set to plunge 60 percent
Lithium-ion batteries will drop from US$550 per kilowatt hour (kWh) in 2014 to US$200 per kWh by 2020.
Solar power, for example, is predicted to supply as much as 14% of the nation's power in just 15 years and 27% by 2050, according to the U.S. Energy Information Administration (EIA).
Today, about 65% of U.S. power is derived from fossil fuels, such as coal and natural gas, according to the EIA. Natural gas, far cleaner in terms of the hydrocarbons it releases, surpassed coal earlier this year.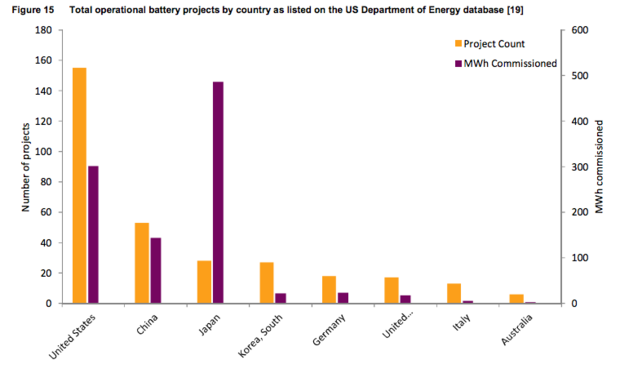 Total operational battery projects by country as listed on the U.S. Department of Energy database. Click image to enlarge. Credit: ARENA
As of 2014, only about 10% of U.S. electricity was generated from renewable energy sources. Hydroelectric provides 26%, wind provides 18% and solar generates just 4% of power. The rest of renewable power is provided by biofuels (22%), wood (23%), biomass waste (5%) and goethermal (2%).
Over the past two years, however, solar energy has grown faster than wind-generated power, and it has been the second-largest source of new electricity generating capacity in the U.S., exceeded only by natural gas.
With so much activity in the energy field, it's no surprise that similar attention would be focused on how best to store that energy cheaply.
Battery tech that scales
Battery technologies offer unique advantages in that they can easily be scaled to suit many applications and have high cycle efficiency, the ARENA report noted. "The potential for significant cost reduction of some battery technologies provides real opportunity for significant deployment in multiple applications."
Tesla CEO Elon Musk has announced his company will be mass producing Li-ion batteries for both commercial and residential use. Musk has said his goal is to eliminate the world's dependency on fossil fuel-generated power. To do that would require two billion of Tesla's new commercial-grade battery systems, Musk said.
Outside Reno, Nevada, Tesla is now building the first of what is expected to be several "gigafactories" that will go online next year and produce 500,000 lithium-ion batteries every year.

Tesla's new Powerwall battery (top left) comes in two sizes, a 7mWh and 10mWh model. The batteries will cost $3,000 and $3,500, respectively. Credit: Tesla
Tesla's battery systems include two consumer-grade batteries -- the Powerwall line -- that store 7 kilowatt hours (kWh) and 10kWh worth of power and cost $3,000 and $3,50, respectively. A third battery system for commercial use is called the Powerpack; it can store 100kWh and will sell for $25,000.
Flow batteries vs. Li-ion batteries
Flow batteries and Li-ion batteries work well with intermittent energy sources such as solar panels and wind turbines because of their ability to be idle for long periods without losing a charge. Flow batteries, however, scale more easily because all that's needed to grow capacity is more liquid; the hardware remains the same, according to Dean Frankel, an associate at Lux Research.