As energy push accelerates, battery costs set to plunge 60 percent
Lithium-ion batteries will drop from US$550 per kilowatt hour (kWh) in 2014 to US$200 per kWh by 2020.

In the foreground are solar panels, which are producing electricity that is stored in a vanadium redox flow battery in the background from Imergy Power Systems. Flow batteries are a type of rechargeable battery that employs vanadium ions in different oxidation states to store chemical potential energy. Credit: Imergy
An energy storage study claims that prices for certain battery technologies will plunge by as much as 60 percent over the next five years. The report was prepared by Australian consultancy AECOM and published by the Australian Renewable Energy Agency (ARENA).
The 130-page study, originally published last month, expects all battery technologies to drop in price. However, the largest reductions are forecast for Li-ion and flow-battery technologies, which are expected to plummet by 60% and 40%, respectively by 2020.
Lithium-ion (Li-on) batteries will drop from $550 per kilowatt hour (kWh) in 2014 to $200 per kWh by 2020; and flow battery prices will drop from $680 per kWh to $350 per kWh during the same time.
"The rapid uptake of solar [photovoltaic technology] provides a useful analogy to what could occur in the energy storage market, as technology prices have potential to reduce as technology development simultaneously improves," the study said. "The behind-the-meter market segment of energy storage is widely expected to undergo a similar boom to the solar PV industry, with a tipping point expected within the next ten years as further cost reductions are achieved."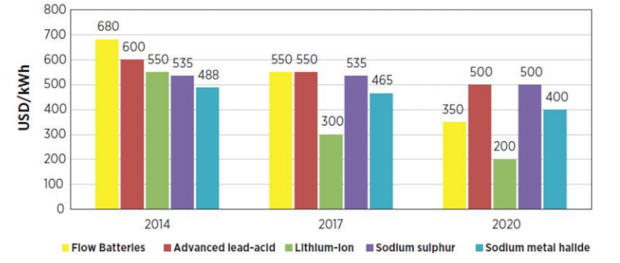 Lowest current and projected battery cell price by type for utility-scale applications.Click image to enlarge. Credit: ARENA
The study also said that battery technologies offer "unique advantages" in that they can easily be scaled to suit many uses and have high cycle efficiency. A big reduction in battery prices provides real opportunity for multiple applications, including commercial and residential distributed energy.
Hydro, solar and wind investment continues
Current renewable energy storage markets around the world are dominated by hydroelectric power, which is a mature technology with known cost structures. The ARENA study noted that further deployment of hydroelectric "is severely limited by geographical and environmental site requirements" as well as size requirements to achieve economies of scale.
"Conversely, many emerging energy storage technologies are immature and the cost structures are not well defined," the study said.
While not all government agencies agree hydroelectric power has a limited growth future, other renewables are growing more quickly because of advances in efficiency, per-kilowatt price reductions and their ability to be installed in geographically distributed locations (i.e., on rooftops or in utility and community solar/wind farms).