Aquanta and its smart water-heater controller are back with new promises to slash your energy bill
Like the Nest thermostat, Aquanta's water-heater controller learns your usage patterns and will heat water only when you need it.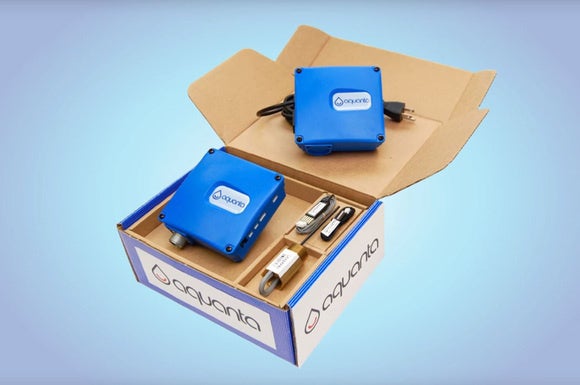 Aquanta's controller is available for both electric (bottom) and gas (top) water heaters. Credit: Aquanta
Once the controller is connected to your Wi-Fi network and you install the app on your smartphone, the system connects to Aquanta's cloud-based server and begins learning your hot-water-usage patterns. You don't have to wait for that to happen, however; the app will also let you establish the schedule you think will be appropriate. You'll also be able to control the water heater manually.
Although Aquanta does not currently have an open API, Carlson says the company's cloud architecture is designed to be integrated into smart-home systems as well. Carlson said the system is easy for any homeowner with minimal plumbing skills. "It's a 35- to 45-minute job for a DIYer," he said. "It takes our guys about 20 minutes to install one."
A FAQ on the Aquanta website says its controller can save between 10- and 30 percent of the energy required to heat water in your home. The app will also produce periodic maintenance reminders, which can extend the life of your water heater. "If you self install," Carlson said, "you'll recoup the cost of the controller in two to four years, if you have an electric water heater." The controller will take longer to pay for itself if you have a gas appliance, because gas is less expensive than electricity.
The controller works with electric, natural gas, and propane water heaters, according to Carlson, provided the gas models have an electronic ignition system. "The good news," Carlson said, "is that the vast majority of new water heaters have that. The fuel type isn't as relevant, it's more a question of how the unit is powered."
The first 1000 consumers to preorder a $149 Aquanta water-heater controller will receive the leak sensor, a $25 value, for free. Carlson said Aquanta's product roadmap includes tying the controller into a motorized shut-off valve, so that the incoming water can be automatically shut off in the event of a leak. We hope to get a review unit in soon for a hands-on evaluation. Stay tuned.