Apple's healthy CareKit revolution
The CareKit framework enables developers and doctors to collect copious amounts of data -- and make sense of it all.
Around three years ago, I was talking with the CIO of a regional hospital about how mobile apps could improve hospital and post-discharge experiences for patients. The conversation came up largely because of the Affordable Care Act, which included new rules to lower Medicare reimbursements to hospitals with high rates of readmissions for people with specific conditions. The goal: Encourage better discharge and follow-up care that would mean healthier patients and lower medical costs. We specifically talked about how a discharge app could be a major improvement in the discharge process and ensure better follow-ups for patients.
Anyone who's ever been, or has had a loved one, discharged from a hospital (surgery or not), can relate. The do's and don'ts, the packet of prescriptions and lists of providers for follow-up care can be daunting for even the most simple of hospital stays. An app is a great option to improve medical outcomes.
I remembered that conversation earlier this month as I watched Apple introduce CareKit and the Postsurgical care app created with it by Texas Medical Center. The app is similar to what that regional hospital had hoped to create, but had never been able to build from scratch.
Apple COO Jeff Williams spelled out why CareKit and the apps it will enable are important at the same March 21 event during which Apple unveiled the new iPhone SE.
"One of the most important things affecting the outcome of surgery is what you do in the recovery process, yet we go from being monitored by a team of highly trained specialists using leading-edge technology to being discharged with a single sheet of paper," Williams said. "This is your list of things to do, not to do, which days to do them on. Adherence to this is notoriously very poor."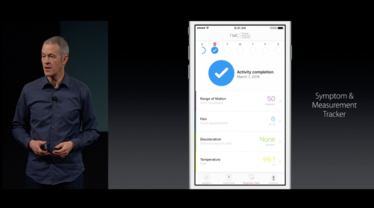 Apple COO Jeff Williams.
CareKit provides a solid framework for any healthcare organization to build upon. Apps are based around a series of modules -- four at present -- designed by Apple. Developers can start with these modules and build off them, customizing the data collected as needed. (This is very similar to how ResearchKit apps are developed.) The apps can get data from the sensors in an iPhone and/or Apple Watch as well as from connected devices like blood pressure cuffs, but they can also acquire information much more simply from user input.
This modular approach means that developers don't have to reinvent the wheel for common tasks or functions, reducing the resources required to create care-related apps. (Not surprisingly, the hospital officials I was talking to in 2013 are planning to take a serious look at CareKit.)