Apple's Black Friday offer: iTunes Store gift cards with purchase, to benefit (RED)
Buy a gift and get a gift card, and Apple will donate to the Global Fund too. But it's one day only, Black Friday.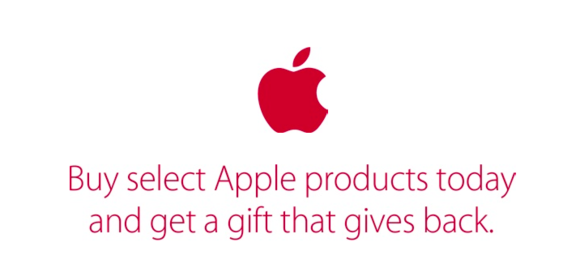 Buy a gift, get a gift, and Apple will give a gift to the Global Fund--the Black Friday sale is on at the Apple Store. Apple's one-day-only deals don't save you any cash, but you do get a PRODUCT(RED) iTunes gift card with purchase, and Apple makes a donation too.
Buying an iPad or iPhone gets you a $50 gift card, while iPods and the Apple TV come with $25 gift cards--and so do Beats by Dr. Dre headphones and speakers. Mac buyers can get a $100 gift card when purchasing an iMac, MacBook Air, or MacBook Pro.
It's worth noting that these are iTunes Store gift cards, not Apple Store gift cards. You can use them for apps (the App Store's own RED promotion is still going on through December 7), as well as music, movies, audiobooks, iBooks, in-app purchases, and so on--but not a new iPhone.
Speaking of iPhones, the free-with-contract iPhone 5c doesn't come with a gift card, nor does one purchased on a carrier installment plan. Among the rest of the fine print, Apple says it will cancel the value of the gift cards if you return the item, or reduce your refund if you used the card already.
While the App Store's (RED) promotion runs through December 7, this gift-card-with-purchase deal is only good for November 28, Black Friday. But tapping out a purchase at the Apple Store (or through the Apple Pay-friendly app) beats braving the mall.
Are you buying anything from Apple on Black Friday? Are you going to keep the gift card or give it as a present? Happy shopping!