Apple TV toys-to-life: Disney Infinity 3.0 vs. Skylanders SuperChargers
The two big toy-centric console games come to Apple TV—which is more worth your cash?
Superfluous as the plot might seem, the platform-leaping gameplay and button-mashing combat are pretty entertaining, even if mindless. You can switch in a different figurine at any time to employ new fighting techniques, or boost your power in areas against enemies of a different elemental alignment. And the hundreds of previous Skylanders figures can all be used, so worry not if you have a closet full of 'em. New individual figurines sell for $13, typically.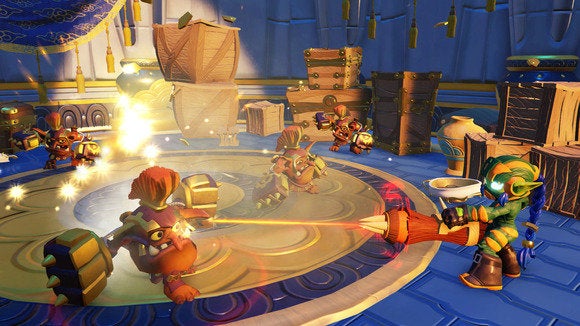 Depending on your current figurine, you might use close-range weapon attacks, a firearm, your fists, or something else entirely.
Vehicles are the big new addition, as mentioned before, and they come into play in both the campaign and in standalone side races. While the car included in the starter kit will get you through the core campaign, some additional content is locked unless you also purchase sea and sky vehicles—those are $15 a pop. Skylanders has a longer main campaign than Infinity, but doesn't have add-on adventures or a creation mode; however, you can buy additional race tracks, like with the $35 Racing Sea Pack.
Skylanders Superchargers unsurprisingly also has a lot of in-game downloads: You'll wait for a while early on, and then wait again as levels load. When I came back to the game after a few days away, it had a 10-minute download to even start the game, then another few-minute download after the menu popped up… and then other little bits of downloading along the way.
It's slow going at times, but at least the game offered up no Infinity-like performance hitches in my testing. That said, when Infinity is running well—most of the time, luckily—it's the more attractive of the two. Skylanders nearly matches the older console versions in visual fidelity, but Infinity's style is the more eye-catching of the two, and it looks crisper as well.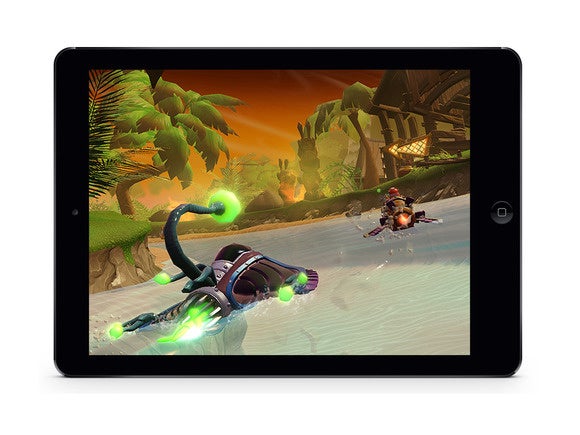 Unlike Disney Infinity 3.0, you can play the entire Skylanders SuperChargers experience on iOS, as well (Infinity just has a standalone Toy Box app).
Also, note that if you bought last year's Skylanders: Trap Team starter kit for iOS, you can use the same portal with SuperChargers: Simply download the free game from the App Store, and you can pay $40 within to unlock the full game. You'll need a vehicle to get through parts of the game, but if you don't want to buy one, you can purchase "instant" digital-only rides and characters within. That takes away much of the point of a toys-to-life experience, but it's an option.
Which one?
Skylanders SuperChargers and Disney Infinity 3.0 are very similar core games: Smart toys plus button-mashing action equals solid family fun in both cases. Honestly, the biggest factor in your decision should be franchise preference: Do you love Star Wars, Marvel, and/or Disney? Or would you rather have something that feels a bit more original and cartoonish in tone? Both are fun, both starter kits get you up and running on Apple TV, and both have some platform-specific annoyances that are thankfully bearable.
Previous Page 1 2 3 4 5 Next Page