Apple TV toys-to-life: Disney Infinity 3.0 vs. Skylanders SuperChargers
The two big toy-centric console games come to Apple TV—which is more worth your cash?
Luckily, later play sessions were much smoother after I got over that initial hump: I didn't see any more audio syncing issues, although you'll still wait for a minute or more at loading screens and encounter small hitches when introducing a new toy to the game. That initial frustration certainly wasn't reassuring, but it's worth the hassle to be able to enjoy the full console Infinity experience on Apple TV.
Skylanders SuperChargers
Skylanders started life in 2011 as a curious spinoff of the fading Spyro the Dragon action series, but by this point, it really feels like an original universe. SuperChargers is the fifth entry in five years, and where past sequels added extra-large heroes or ones that could snap apart to mix and merge, this one is all about vehicles on land, sea, and air.
And it's a cheaper buy-in than Infinity: The $75 starter kit gets you the portal base, a gamepad, two figurines (Spitfire and Super Shot Stealth Elf), and the Hot Streak car. That's a pretty decent difference in price, but it largely comes down to gamepad value: The one bundled in with SuperChargers isn't MFi compatible, so you can't use it with loads of other current games.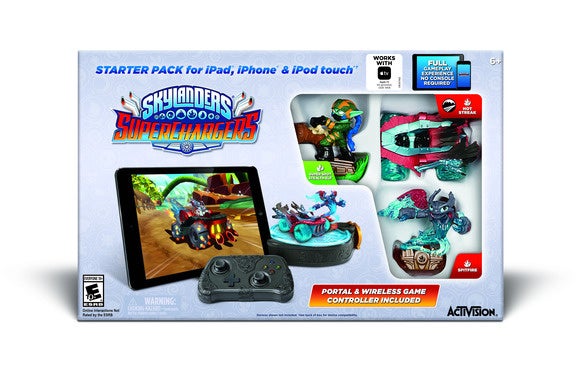 Like last year's Skylanders: Trap Team for iOS, SuperChargers has a small gamepad that snaps into the bottom of the portal for safekeeping.
The Skylanders gamepad is also much smaller and feels cheaper, but on the plus side, it's probably an ideal fit for a six-year-old's hands and it snaps into the bottom of the portal for easy storage. Also, if you already have the Nimbus or another MFi controller, you can use that with Skylanders instead of its packed-in option.
Skylanders works much the same as Disney Infinity, in large part because Disney lifted much of its template from the series. The portal here is wireless and battery-powered, connecting automatically to the game via Bluetooth, and it doesn't have fixed positions for toys: You can pop multiple figurines and vehicles on the circular platter however you wish. The toys don't feature a big, obvious disc on the bottom, but they have the same kind of smart chip embedded within that tracks your progress.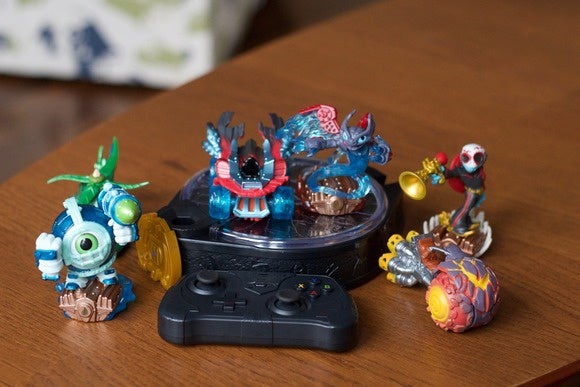 They do look a bit like Happy Meal toys at a glance, but they're pretty sturdy, and the character designs are neat.
Coming into a sequel that's not based on widely-known media franchises isn't ideal, but you're not missing much on premise: You'll control one of many colorful heroes battling against Kaos, a bumbling villain set on world domination. Your allies are a hodgepodge of characters whose names you'll probably struggle to remember, and that's not really a problem. If it all seems like a kid-friendly cartoon made interactive, it shouldn't surprise you that Activision has an animated series in production right now.
Previous Page 1 2 3 4 5 Next Page