Apple TV toys-to-life: Disney Infinity 3.0 vs. Skylanders SuperChargers
The two big toy-centric console games come to Apple TV—which is more worth your cash?
Then there's the Toy Box, which for many players may be the most compelling part of the Infinity experience. Toy Box provides the tools to create your own levels—action, platform, racing, sports, whatever—and then share the results online. And there's a wealth of finished stages from people who clearly have a ton of time on their hands. That's a good thing for you, since you can freely download and play anything on the servers. If you love Minecraft or other creation games, you might find yourself pouring hours and hours into the Toy Box.
That's also where all the properties from the wide world of Disney come together. You can mix and match Star Wars, Marvel, and Disney characters, items, and world pieces in Toy Box—I pulled out Spider-Man and Sulley (from Monsters Inc.) figurines I had from the past Xbox and PlayStation entries and put them into the game. Disney has also released several new figures for Infinity 3.0, including Olaf from Frozen and Mickey Mouse himself. Those sell for $14 apiece.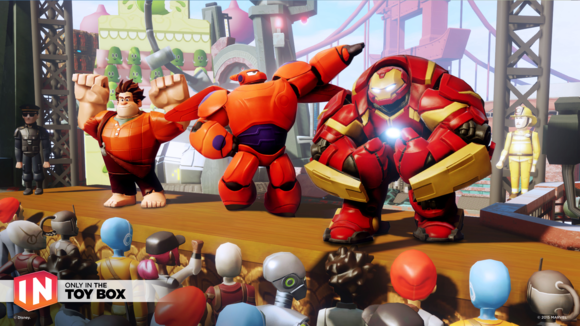 What's especially cool about the Toy Box is the ability to mix and match characters and franchises with amusing results.
Infinity 3.0 also supports a couple of add-on playsets: Rise Against the Empire is the set that most Star Wars fans will probably want, as it includes Luke Skywalker and Leia Organa and whips through the events of the classic film trilogy (with tweaks). You'll battle Darth Vader, fly the Millennium Falcon, and destroy the Death Star. It's stellar stuff, and $35 for the campaign and two figurines seems reasonable considering how much the separate toys cost.
A set based on Pixar's Inside Out is also available, with Joy and Anger toys included (also $35). It's colorful and creatively rendered, with both 3D and side-scrolling platform stages in the mix, but it's very simplistic: The brilliant film might have skewed towards adults, but the game is a kiddie diversion. And then the Star Wars: The Force Awakens set—out now, as it launched the same day as the film—is sure to be huge. A Marvel set and additional figurines are coming in 2016, as well.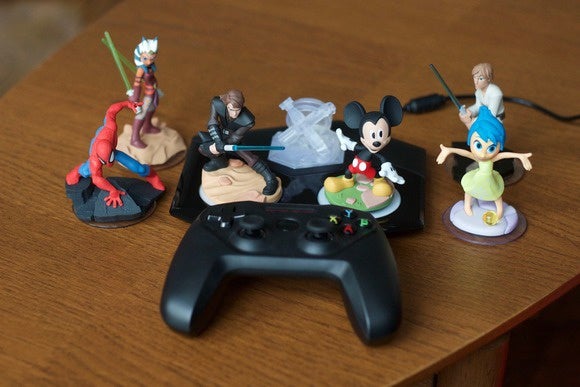 Infinity's figurines have a great style and are consistently well-executed, but they're more like statuettes than toys you'd really want to play with.
Disney Infinity 3.0 looks rather nice on the Apple TV, with the crisp, stylized graphics appearing much like the console versions. That said, my first hour with the game was a mess: It took about 30 minutes of downloading additional content before I could even play, and then the audio was mismatched to the cinematics as more content was streamed in. I also ran into brief freezes, and it all seemed really janky. Big games are at a disadvantage on Apple TV, due to Apple's own download size restrictions, but that first session was especially brutal.
Previous Page 1 2 3 4 5 Next Page