Apple TV toys-to-life: Disney Infinity 3.0 vs. Skylanders SuperChargers
The two big toy-centric console games come to Apple TV—which is more worth your cash?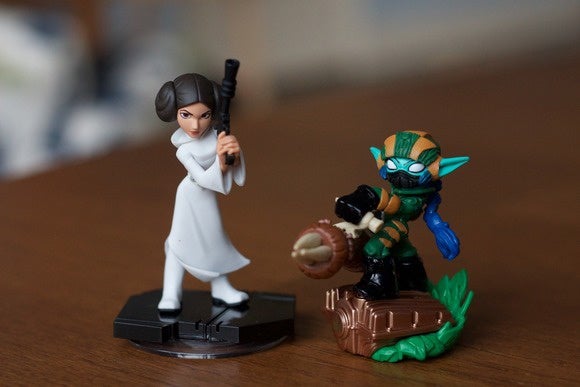 Kids love toys and video games alike—so why not bring them together into one harmonious, entertaining, and totally commercial experience? It was that bright idea that kick-started the toys-to-life gaming genre a few years ago, and the market only seems to be growing as smart chip-housing figurines proliferate.
Now that Apple has a console-like gaming box, the two biggest toys-to-life franchises are available on Apple TV, right in time for the holiday shopping rush. Skylanders SuperChargers is the fifth entry in the pioneering toys-to-life series, adding an array of vehicles for the first time in addition to various cartoonish characters. And Disney Infinity 3.0 puts its largest focus on Star Wars, but it also has heroes from the Marvel Comics and Disney/Pixar universes.
Both arrive on Apple TV with a starter kit that has everything you need to get up and running: A couple of toys, a portal for connecting them with the game, a gamepad, and access to the full game within the free App Store download. If you're interested in bringing one home for the family this season, here's a look at what to expect.
Disney Infinity 3.0
Disney's toys-to-life game clearly benefits from having access to one of the most amazing entertainment lineups ever assembled under one corporate banner. This one is primarily focused on Star Wars—well timed with this month's release of The Force Awakens in theaters.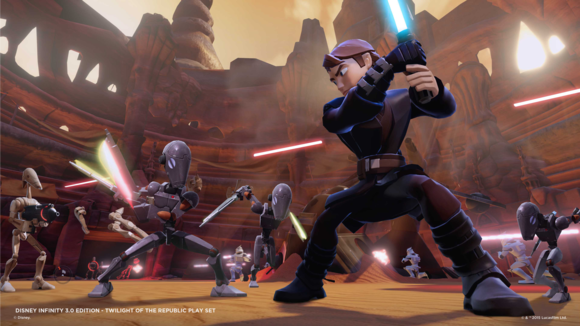 Nothing like slicing and dicing enemy droids with a lightsaber.
The Infinity 3.0 starter kit ($100) comes with characters Anakin Skywalker and Ahsoka Tano, as well as a plastic piece that starts the Twilight of the Republic playset. The kit also has another big perk: The great SteelSeries Nimbus, an MFi (Made for iOS) gamepad that works with all compatible Apple TV games, as well as hundreds of iPhone and iPad games.
To play Disney Infinity, you'll plug the base into a power source: A wall outlet, or maybe a nearby computer. From there, it'll connect automatically to the game via Bluetooth. The base has three slots: One for a playset piece, which lets you play a certain campaign in the game, and two for figurines. All Infinity toys have a special chip inside that the base reads to pull characters and playsets into the game, and your heroes' progress is stored on the toy too.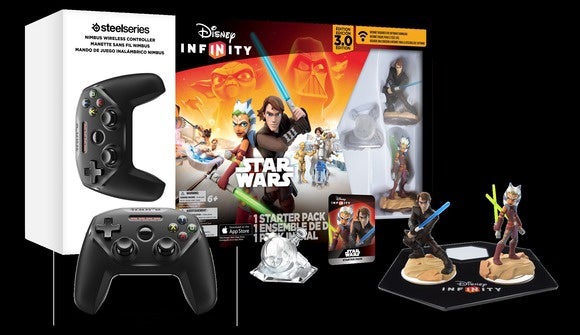 It's the same starter pack from the consoles, except now you get the stellar SteelSeries Nimbus controller bundled in. Deal!
Twilight of the Republic might seem an odd campaign choice for the starter kit. It's based on The Clone Wars animated series, which might resonate better with younger fans, but older players will just recognize the characters and scenarios from the groan-worthy prequel films. Still, it's a solidly fun jaunt, with plenty of lightsaber swinging and even some space dogfighting. The action is approachable enough for kids to jump right into, and it provides a few core hours of fun, with side missions and collectibles to hunt down for extended entertainment.