Apple Music on Apple TV: Why Siri support can't come soon enough
Apple's streaming service gets a remote for its tvOS app, but without Siri's help, everything is more difficult.
Adding songs to Up Next
Queuing up songs on Apple TV is a little different from your iPhone or Mac because song titles in the Apple Music TV app don't have have a More icon, the three dots, next to them. This means when you find a song you want to queue up, you have to press and hold the remote's touchpad for a menu of options to pop up. From here, you can do everything from play next and add to Up Next to start a radio station or add to a playlist.
The only trick here is that you can't press and hold the touchpad to queue up a song from its cover image on the New screen. I tried that with some of the Hot Tracks, but pressing to add them to a queue does nothing, and a quick tap just plays them immediately.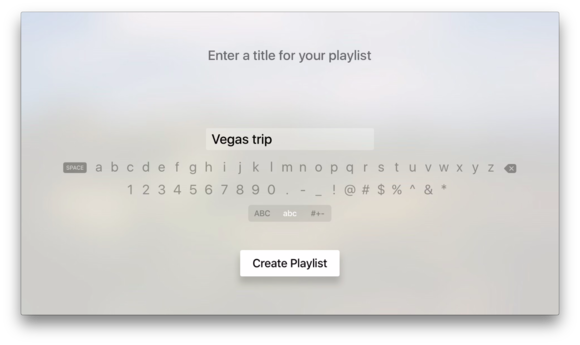 Typing in this playlist title on my remote took a solid two minutes.
Making a playlist
Creating a new playlist on your TV is about as easy as making one on your phone or Mac, though more time-consuming because of how big of a headache it is to search for songs—Siri support really can't come soon enough.
If you want to add songs to an existing playlist, there are two methods: Start playing a song, then add it a playlist from the Now Playing screen by clicking again on the touchpad and highlighting the "More" menu at the top and selecting "Add to a playlist." Or you can highlight a song title, then press and hold the touchpad on your remote to pull up a menu of options and pick "Add to a playlist." Sometimes that doesn't work, like when you're trying to add a song from one playlist to another, so you'll have to add that song from the Now Playing screen. (Yes, this process should be much easier.) If you're making a new soundtrack from scratch, follow the same steps you would to add to a playlist, then highlight "New playlist" under "Add to a playlist." Think of a title and tap "Create playlist."
You can't add a cover photo to your playlist from the TV app, but you can always go back in and add one later on your phone.
Is that all there is?
Apple Music on Apple TV is a more basic version of the iOS app, but three additional features would make this my most-used TV app (aside from Netflix, let's be honest).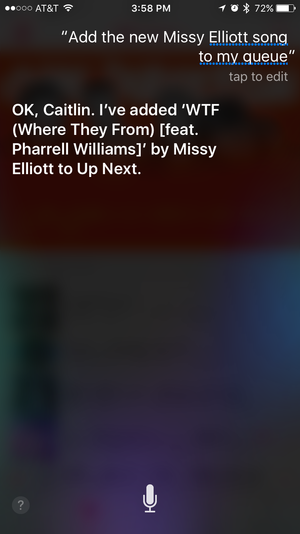 Siri makes Apple Music much easier to use.