Apple joins 'Made in America' trend with US$1 billion fund to promote U.S. manufacturing
Apple CEO Tim Cook announced the new initiative on CNBC's "Mad Money" with Jim Cramer.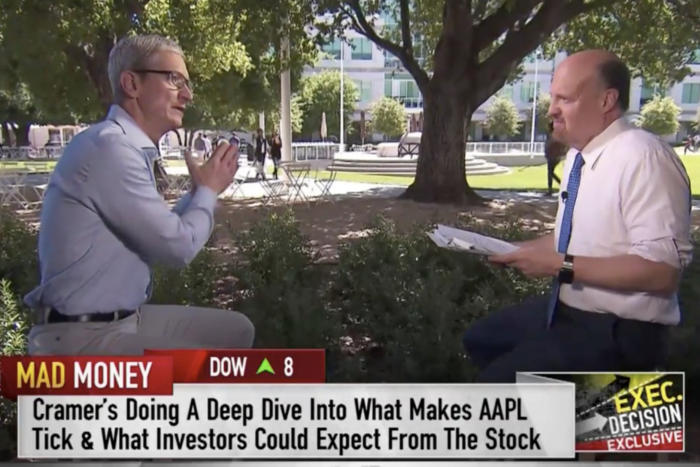 Credit: CNBC.com
Manufacturing jobs (any jobs, really) are a hot-button topic these days, and our President has made no secret of his desire for big companies, and Apple in particular, to make more products here. In a Wednesday interview with Jim Cramer on CNBC's Mad Money, Apple CEO Tim Cook announced that Apple is creating a fund to promote advanced manufacturing in the United States, and seeding it with $1 billion to start.
CBNC.com has the video and a complete transcript of the wide-ranging conversation, and it's worth a watch. These are the points that most piqued our interest—OK, and one that just made us laugh.
On creating jobs
Cramer asked Cook straight up, "You're a huge company. What are you doing to create jobs?"
Cook responded that Apple had created 2 million jobs in the U.S., a stat he'd also mentioned in Tuesday's Q2 earnings call. But this time he broke it down, and naturally those workers aren't all wearing Apple logos on their shirts. Still, a lot of them are: Cook spoke of 25,000 employees doing R&D; 6,000 at Apple's facility in Austin, Texas; plus all the employees at Apple's retail stores. That's nowhere near 2 million, but Cook also counts U.S. suppliers who make components here, like Corning glass and 3M adhesives used in iPhones and iPads.
Cook also gave Apple credit for its huge developer community. "And this developer community is almost 1.5 million people now," he said. "These are folks from really small businesses, a party of one, to larger companies. And they're writing apps that change the world. And we're giving them the platform. And we've created an incredible store that allows them to sell their product in 155 countries in the world. It's a really unbelievable empowering experience as a new business."
Apple already invests in the developer community in different ways, from its new developer center in India to smaller gestures like offering WWDC scholarships and letting newbie developers tinker with Xcode before paying for the Developer Program. Cook also told Cramer that Apple would be putting more money behind teaching people to code, with announcements to come this summer. (Bet on WWDC.)
But Cook went on: "In the other category, manufacturing, we asked ourselves, 'How can we get more people to do advanced manufacturing in the United States?' And I'm proud to tell you that we're creating an advanced manufacturing fund. We're initially putting $1 billion in the fund."
The fund will invest in small American companies manufacturing products here. Cook said Apple would announce the first investment from the fund this month. Apple could focus on companies that make components, but we selfishly hope the fund's investments leads to more advanced accessories for our favorite Apple gadgets, like smart bands for the Apple Watch, new kinds of HomeKit devices, or wireless charging accessories.