Apple calls for commission to discuss FBI's iPhone unlocking demands
Company admits it is technically possible to do what the FBI wants, but adds that is 'something we believe is too dangerous to do'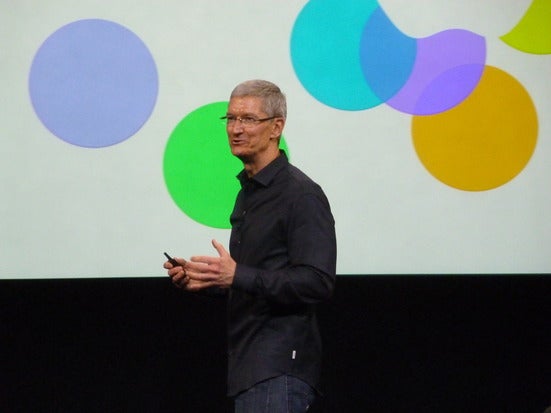 Apple CEO Tim Cook on stage at the company's headquarters in Cupertino, Calif. in 2013. Credit: Martyn Williams
Apple yesterday said that the government should create an expert panel to discuss the implications of the FBI's demand that the company help it access an iPhone used by one of the people accused of killing 14 in California nearly three months ago.
In a FAQ posted to its website early Monday, Apple added to the back-and-forth of last week, when both it and the government traded court filings, statements and heated rhetoric. Along with the call to bring legislators into the controversy, Apple said that the FBI should withdraw its call for assistance in getting into an iPhone used by Syed Rizwan Farook, who with his wife Tashfeen Malik, killed 14 in San Bernardino, Calif., on Dec. 2 before they died in a shootout with police.
"We feel the best way forward would be for the government to withdraw its demands under the All Writs Act and, as some in Congress have proposed, form a commission or other panel of experts on intelligence, technology, and civil liberties to discuss the implications for law enforcement, national security, privacy, and personal freedoms," the FAQ stated. "Apple would gladly participate in such an effort."
Apple's push of the debate to others was what one attorney last week said may have been the company's intent when it rejected the government's demand.
"Is [Apple's] end game here the Congress? This has been brewing in Congress for some time," said Robert Cattanach, in an interview last week. Cattanach is a partner at the law firm Dorsey & Whitney who previously worked as a trial attorney for the U.S. Department of Justice (DOJ).
In its motion filed Feb. 16 -- which generated an order by a federal judge that Apple comply -- the DOJ cited the All Writs Act when it demanded that Apple help the agency get into Farook's iPhone 5C. The All Writs Act was part of 1789 legislation that established the U.S. judicial system. It has been amended several times since then, with the most recent major changes made in 1948.
Increasingly, the DOJ has relied on the All Writs Act to force third parties to help it obtain information, including that stored on smartphones. According the American Civil Liberties Union, the government has used the All Writs Act at least 70 times previously to get Apple to unlock older iPhones.
In Monday's FAQ, Apple admitted that it was technically feasible to do what the FBI wanted, but argued that it was a bad idea. "Yes, it is certainly possible to create an entirely new operating system to undermine our security features as the government wants. But it's something we believe is too dangerous to do," Apple said.