Apparel chains can fight back against Amazon, but it won't be easy
Amazon has clothing chains panicking.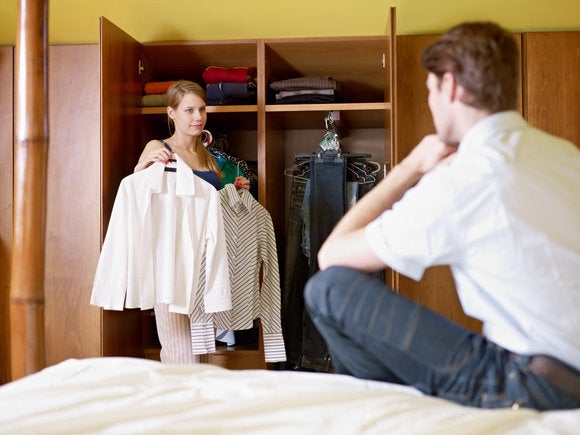 With recent reports that Amazon is preparing to make a major play in custom clothing - as well as apparel in general - clothing chains are panicking. To be fair, when many physical chain executives hear the word "Amazon," panic seems to be the default response.
The good news is that panic is not needed, because there are some fine defense options. The bad news is that those options are painful, and I'm not at all certain apparel chains are scared enough to actually take meaningful actions.
This column has repeatedly argued that the best way physical chains can fight Amazon is to do what Amazon can't: Deliver a wonderful physical experience. Use that which is unique to the physical experience and deliver a show that no virtual retailer can.
First stop: the dressing/changing room. Dressing rooms have become retail's answer to the ever-shrinking airplane seat. Both are small, cramped and generally unpleasant. This is even more true when multiple women try to occupy one. (Please forgive my sexist reference, but this is simply a phenomenon that I have never seen involving males of the species. As a fun activity, clothes shopping, especially for shoes, seems to have strongly sided with one gender.)
Technology has helped make that cubbyhole space more effective and efficient - with the RFID-fueled ability to request more clothing to be brought in with a click, sometimes integrated into a magic mirror - but not more pleasant.
The reason airline seats and dressing rooms are so cramped is economic, but - and this is key - it was predicated on an assumption of a practical monopoly. In other words, as long as airlines knew that all of their rivals were shrinking seats to a similar degree, customers wouldn't have a choice but to accept it. Where else could they go?
That was why apparel retailers could get away with such small and unpleasant dressing rooms. As long as all apparel retailers pulled the same stunt, shoppers would have no choice. But Amazon - and for that matter, other apparel sites - gives them a choice. It gives them a next-day (and sometimes same-day) choice, with free return shipping.
My suggestion: Take a temporary financial hit, knock down some walls and give shoppers larger and more comfortable dressing rooms. Put couches in, as well as plenty of table space to lay out clothing choices. Give enough room for three people in each room. Throw in an ice bucket with some soft drinks, a pitcher of ice water and some glasses. Maybe even some pretzels and carrot stalks. Then advertise to the world what you've done.
Source: Computerworld US