AMD throws down the GPU gauntlet with new 4th-gen 'Polaris'
Chip maker hopes to repeat the past with a graphics core that can upend Nvidia's dominance.
Intel has enjoyed a FinFET-like feature it calls Tri-Gate that was introduced with its third-gen Ivy Bridge CPUs in 2012. AMD's adoption, though, is a big deal for the chip maker, which has been losing market share to Intel and Nvidia for some time.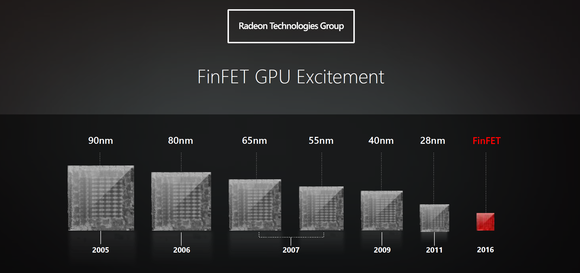 With a move to FinFET and a 14nm or 16nm process, AMD's new Polaris GPUs will be markedly smaller. Click on image to enlarge.
A symbolic name
Polaris, in fact, may be an apt name for AMD's new architecture. Polaris is also known as the North Star, which mariners relied upon to navigate treacherous seas. That's not unlike the position AMD is in right now.
The company recently regrouped all graphics under one czar who freely admits that AMD's market share doesn't look good. But Raja Koduri, who runs the new Radeon Technologies Group, said it's not unlike the situation ATI faced in 2001. Nvidia had been on a tear with the GeForce, GeForce 3, and GeForce 4 series. ATI was an afterthought. That changed seemingly overnight when the Radeon 9700 came onto the scene. The card immediately put ATI back in the pole position.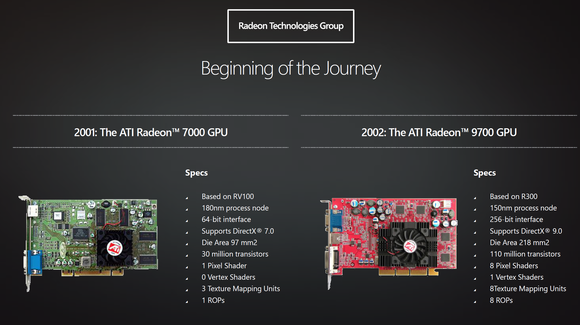 AMD believes Polaris will be this generation's Radeon 9700, which saw the company overtake Nvidia. Click on image to enlarge.
Will Polaris do the same? That's difficult to say. For one, actual products based on the chip won't ship until the middle of the year. The other problem is that AMD's not alone in moving to a new, more efficient process. Nvidia is likely to see major performance and power gains from moving to a newer process, as well.