AMD accuses BAPCo and Intel of cheating with Sysmark benchmarks
AMD comes out swinging in a video released Thursday.
But in 2016, who the hell cares? In 1997 we cared about typing in Word or viewing a PowerPoint, but today any PC with an SSD, enough RAM and a reasonably fast CPU does the job for 90 pecent of work tasks. Most of us could not tell the difference between a dual-core Core i3 or 8-core Core i7 chip (with proper RAM and SSD) for standard Office drone tasks.
That's why I often use PCMark 8 Conventional, which runs on just the CPU, to illustrate that it really doesn't matter that much. Here's the result from a stack of laptops. My real-world use of all of these laptops—from Haswell to Skylake, and from Core M to Core i7—confirms that I can't tell the difference in Google Chrome, Outlook, and Word from Surface Book to a ZenBook. Atom though, that's another story.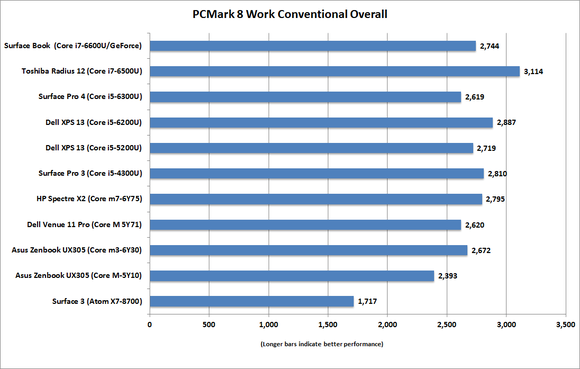 For most Office tasks, you'd be hard pressed to feel a difference between a Core i7 or Core m chip. (Click to expand).
What you should pay attention to
The take away from this latest kerfuffle isn't that benchmarks don't matter, it's that people—and testers—should apply and interpret them correctly. In Office, who cares if you have a Core i3 or FX CPU. In a video encode or a game though? Hell yes it matters.
Previous Page 1 2 3