Amazon's Fire TV skates to where the Apple TV puck is
Amazon's new Fire TV is a direct shot across Apple's bow, and a clear indication that the battle for users' living rooms is now underway.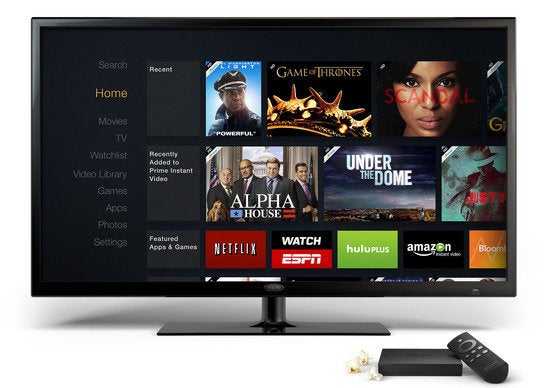 The ball's in your court, Apple.
That's what I took away from Amazon's introduction of the Fire TV. Not that I think that the retail giant's set-top box is leaps and bounds ahead of what Apple--or Roku, or Google--are offering, but it's pretty close to the device that Apple's been shipping for the last few years. If there's a time for Apple to release something that's going to keep it (at least) one step ahead of its competitor, now is it.
Find and seek
Fire TV doesn't necessarily boast the same breadth of content as Roku or the Apple TV, but it is stabbing directly at the weakest point of many of its competitors: discoverability. There's a lot of digital video content out there right now, and nobody's yet figured out how to make it easy to find out where that content is. Instead we wade through countless menus and sub-menus of services, shows, episodes, movies, and so on, tapping out search terms on our little, antiquated five-direction controllers.
If they work as expected, then Fire TV's voice-search capabilities may one-up both the Apple TV and Roku. Offering the feature specifically for search helps get around the problem most users have with a voice interface—namely how you deal with ambient noise, especially the noise generated by the very content you're watching.
Of course, rumors have long suggested that Apple too might jump into this arena by adding Siri to the Apple TV. For my part, I think it would be great if Siri on my iPad or iPhone were aware of my Apple TV, enhancing it in much the same way that Apple's own Remote app lets you take control of the set-top box. But a built-in microphone on the physical remote would probably be more attractive to those without iOS devices.
It's surprising to me that Apple hasn't yet found a way to incorporate Siri into the Apple TV, but I have to believe that's because either it hasn't yet determined the right way to do it or because it hasn't quite managed to shake itself out of the mindset that the Apple TV is a hobby.
The game's afoot
The other major chunk of Amazon's announcement was focused on gaming--which, coincidentally, is also a subject of longstanding scrutiny when it comes to the Apple TV. While this certainly represents Amazon taking a shot at Apple, whose mobile devices have become a major gaming platform, there's also plenty of splash damage for Microsoft and Sony's gaming consoles, as evidenced by Amazon's $40 game controller.