Amazon triples the number of games and apps available for its Fire TV media streamer
The e-commerce giant and aspiring media mogul wants investors to forget about yesterday's earnings report and lowered holiday-season sales forecast.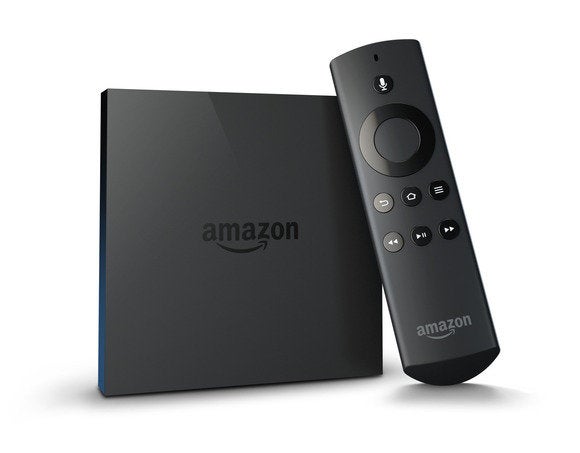 Amazon wants investors to forget all about yesterday's disappointing earnings announcement and its lowered sales guidance for the 2014 holiday season. The company released two bits of more positive news this morning: The number of games and apps available for its $99 Fire TV media-streaming device has tripled since its launch in April, and all 10 episodes of its original series Alpha House (starring John Goodman) are now available on its Amazon Prime Instant Video service.
Amazon declined to reveal how many Fire TVs it has sold (the company doesn't publish unit sales for any of its products, according to a company spokesperson), but it likely has a ways to go before it catches up with Roku (10 million units sold since 2008) or Apple (the company recently claimed an installed base of 20 million Apple TV devices).
In today's release, Amazon reports that more than 600 apps and games are now available for its streaming box. The company also provides positive quotations from two game developers who are happy they decided to support the device.
"As a small development team, we have had the largest return on our invested capital with Fire TV," said Todd Daniel, Managing Partner at Shiny Box Games, makers of Dungeon Quest. "We are seeing world class performance metrics only a month in to the game being available on Amazon Fire TV. User retention and attachment rates are higher than any of our other platforms."
"For us it was really important to be on Fire TV, because of our beyond-mobile strategy," said Chris Kassulke, CEO and co-founder of HandyGames, creators of Ninja Hero Cats and Save the Puppies. "The end-consumer should have access to their games, whether they are on the go or at home in the living room, and this is the reason why we optimized all our games for Fire TV."
Highly rated new games include two from noted developer Telltale Games (The Walking Dead: Season 2 and The Wolf Among Us), the aforementioned Dungeon Quest and Ninja Hero Cats, Leo's Fortune, and a handful of others.
Not all of the new apps are games. You can now listen to Spotify on the Fire TV; and you can watch on-demand TV programming on the PBS, PBS Kids, NFL Now, A&T, History, Lifetime, and other TV channels. Conspicuously missing from that list: HBO Go (available on the $99 Roku 3, the $99 Apple TV, and the $35 Google Chromecast). That might just be a matter of time, though, since the Fire TV does offer Showtime Anytime.
Amazon reports that its most popular media apps and services include Amazon Instant Video (of course), Netflix, Hulu Plus, YouTube, Pandora, and Crackle. The games most of its customers are playing include Minecraft: Pocket Edition, Despicable Me: Minion Rush, and Grand Theft Auto: San Andreas (Kindle Fire Edition).